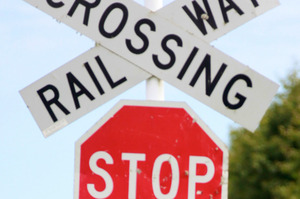 Rail authorities are under fire for failing to erect warning signals at numerous West Coast rail crossings after an empty coal train ploughed into a car yesterday, killing a Reefton couple.
The fatality occurred only 3km from another uncontrolled level crossing at Swamp Creek Road, where local woman Jane Sluys was fatally injured in January when her ute was struck by a train as she exited her property.
The couple killed about 1pm yesterday have been named as Robert James Jacobs, 66, and Marieta Ocba Jacobs, 43. The Greymouth Star understands they had been visiting friends on Landing Creek Road and were returning to Reefton when they met the train on the crossing alongside State Highway 69.
The level crossing is controlled by a give way sign. The train was heading toward Westport at the time.
Local residents spoken to by the Greymouth Star today expressed a mixture of shock and anger that a second fatality could happen in such close proximity and within five months of each other.
Peter Newbold, who farmed in the Larrys Creek area for eight years and now lives in the Marlborough Sounds, said there was "no excuse" for more people to die on uncontrolled crossings along the Reefton-Westport rail line.
"One death is too many. The problem would be easily fixed if warning signals were put in - they need to be on every damned crossing along the line," Mr Newbold said.
Reefton woman Donna Mills, a close friend of Mrs Sluys, said the site of yesterday's fatality should have had flashing lights and barriers.
She blamed poor visibility for both fatalities.
"The vision is just terrible, the gorse and all that, it needs to be cleared out down both sides of the railway track," Ms Mills said.
"This is a small community, we don't need this happening again."
A Cronadun woman, who did not want to be named, said that after the first accident, trains had been sounding their horns in advance of each level crossing, but she was unsure if that happened yesterday. She hoped it was not the same train driver.
She blamed complacency, not the railway line.
"I went straight across the railway line the other day, I didn't even realise - I was too busy talking," the woman said.
KiwiRail senior communications adviser David Miller said there had been seven collisions involving trains in the Buller district over the past decade, two of them fatal.
"While the number of trains using a particular line may change, the Landing Creek Road level crossing is currently used by fewer than 10 trains and approximately 20 road vehicles a day," Mr Miller said.
He said all level crossings in New Zealand had some form of protection and KiwiRail used the Australian level crossing assessment model to evaluate the level of risk at each crossing, including collision or near-collision history. Whenever there was a collision at a level crossing it was reassessed to determine if additional safety measures were required.
"It costs approximately $120,000 to install flashing lights and bells at a crossing," Mr Miller said.
"Motorists need to always look and listen for trains and should approach level crossings controlled by either give way or stop signs in the same way they would road intersections - and slow down and be prepared to stop."
The train driver involved has been relieved of his duties for three days and has been offered counselling.
The Nelson police crash investigation team was still at the site this morning.