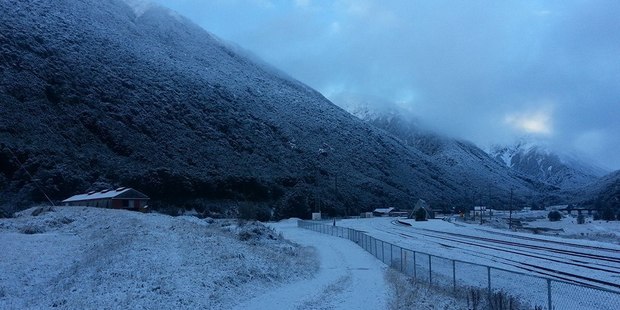 After light hail across the Wellington region today, forecasters are warning to brace for a cold morning tomorrow as a winter snap finally hits.
MetService meteorologist Peter Little said small amounts of hail fell in Wairarapa today, however were no reports of damage.
"I know in Wellington this morning, at Kelburn here we had some very small hail.
"Also around the Waikato, Auckland area, there's been a few showers -- there's been some hail in those too... it's likely also around Banks Peninsula."
Watch - WeatherWatch: Cold snap has arrived

MetService's rain radar had suggested the rain was around 10mm in size, however "in terms of what falls on the ground -- a lot can happen from where it's detected in the sky to what falls on the ground", Mr Little said.
The hail had been caused by a cold, unstable westerly flow, moving up the country which was also causing thunderstorms in the west of the North Island from Taranaki across to Taupo, Wanganui, Taihape, the Manawatu region and the bottom of the South Island, he said.
"It's quite an unstable air mass, with very, very cold air moving up over the country.
"We're sort of stuck in it for today and tomorrow. Being a south-west flow, what tends to happen is actually throughout tomorrow, it starts to line up with the coast of New Zealand.
"You have the lower part of the South Island almost acting like the bow of a ship and all of the showers, etcetera, that hit the bottom of the South Island, they get stuck once they hit the northern ranges of Southland into Otago and it actually creates quite a clear gap over much of the rest of the country."
As a result the showers tended to "catch" on exposed coastal areas of the country such as Banks Peninsula and the East Coast of the North Island, Mr Little said.
A warning for snow fall had been in place for the Desert Road today and 2cm to 5cm was expected to fall in the area by midnight tonight, he said.
Warnings were also in place for the Rimutaka Hill Rd, Milford Rd and Lindis Pass, he said.
Several centimetres of snow had settled in Te Anau today and there had also been a dusting of snowfall over Queenstown and Arrowtown.
With the unstable weather clearing but cold temperatures remaining, it would be a frosty start for many areas of the country tomorrow morning.
Christchurch was set to wake to -3C, Alexandra to -6C and Queenstown to -5C, Mr Little said.
Taumarunui, Taupo and other inland areas of the North Island were also set for a particularly frosty morning, he said.
MetService forecaster Allister Gorman said Central North Island skifields are likely to receive between 20cm to 30cm of snow today.
While it wasn't a "big dumping" it would be welcome fresh snow for Turoa and Whakapapa, he said.
"The cold stuff is still to come on there. The freezing level is likely to come down lower, down to 600 metres," he said.
- APNZ