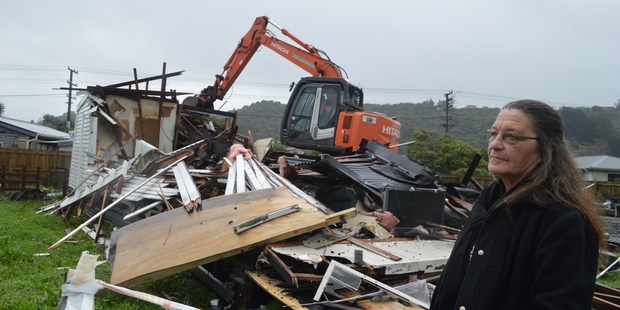 Runanga mother Joe Hall says she hopes to let go some of the demons that have haunted her since her son, Judd, died in a high-speed car crash in January, with the demolition today of the house where his life ended.
Judd Hall, 22, was a backseat passenger in a car that sped off from police in High Street, Greymouth, before the driver lost control and smashed into the house.
Ms Hall, who said seeing the house was a daily heartache for her as she worked directly across the road from it, was "relieved" with its demolition.
As she watched the excavator reduce it to rubble, her husband Ric Durbridge took away the cross that had been placed outside the property as a memorial.
"It is about time this was done," Mr Durbridge said as he walked away, not staying to watch the destruction of the house, which was further damaged by an arson attack a couple of months ago.
The house and a neighbouring property have been bought by G J Gardner Homes, and director Adam Gardner said the intention was to "clean up the area" with the possibility of new flats or houses there later in the year.