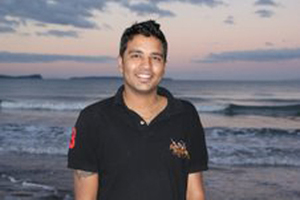 Police believe an Indian student who disappeared in Auckland nearly five years ago died by his own hand.
But Coroner Gordon Matenga said there was not enough evidence for him to rule a suicide, saying he could conclude only that Srikanth Rayadurgam, 23, died from "causes unknown".
He was last seen on October 1, 2009, and there has been no contact or sightings of him since.
At an inquest in Auckland today, Detective Sergeant Joe Aumua said that after extensive inquiries, police concluded Mr Rayadurgam was dead.
"Srikanth has not made any contact with his family or associates in India and New Zealand since his disappearance in 2009. He had previously talked about self-harm with his ex-girlfriend and raised the issue with her the day before his disappearance."
He had also failed three papers in the first semester of his graduate diploma of arts studies at AUT and his attendance there had dropped off dramatically in the second semester.
Mr Aumua said Mr Rayadurgam's father took out a loan to finance his study, and there was cultural pressure to do well too.
Mr Aumua said Mr Rayadurgam's bank accounts hadn't been touched and there was no evidence to suggest he left the country under his own or another identity, or had simply disappeared in New Zealand. And although police couldn't completely rule out foul play, it was unlikely.
Mr Rayadurgam, one of three children, lived in Mt Albert with his sister and brother-in-law Nagesh Kakanoor. Mr Kakanoor said Mr Rayadurgam was not the type of person to hurt his family and take his own life.
"What I feel is that something must have happened on that particular day."
Mr Kakanoor said he was not aware that Mr Rayadurgam had spoken to others about depression or self-harm.
Mr Rayadurgam chatted with his ex-girlfriend, who was still in India, late on September 30 and early on October 1, 2009.
She said he did not appear upset but said there was something he wanted to tell her, but then did not.
For the rest of that day he ignored texts and calls from his family but just after 10pm and then at 10.30pm, tried unsuccessfully to call his ex again.
He was seen around Auckland city on CCTV footage. Police said he was acting casually and didn't appear under duress.
On the morning of October 2 a member of the public found his wallet at Westhaven Marina. Family members and friends searched the area and found a shoe belonging to him, his passport, photos, his backpack and, floating in the water, his chef's jacket.
Mr Rayadurgam arrived in New Zealand in February 2009 and was going to stay for a year.
After the inquest, Mr Kakanoor said he was happy with the coroner's finding.
"[Mr Rayadurgam] was like a leader to his friends. He dictates, he motivates. I wouldn't think that he would harm himself - not at all."
His family thought foul play was likely, and Mr Kakanoor said it could have something to do with CCTV images capturing Mr Rayadurgam appearing to speak with someone in a parked car in the central city later on the night he was last seen.
And although he was only carrying $250, he was wearing a gold and platinum chain, a bracelet and expensive watch, all of which could be worth about $5000.
Mr Rayadurgam's remarks about self-harm were made months before he disappeared, when he broke up with his girlfriend, Mr Kakanoor said.
Where to get help
• Lifeline: 0800 543 534
• Suicide Crisis Helpline: 0508 828 865
• Youth services: (06) 3555 906
• Youthline: 0800 376 633
• Kidsline: 0800 543 754 (4pm to 6pm weekdays)
• Whatsup: 0800 942 8787 (1pm to 11pm)
• The Word
• Depression helpline: 0800 111 757 (24-hour service)
• Rainbow Youth: (09) 376 4155
If it is an emergency and you feel like you or someone else is at risk, call 111.
Next story: Motorcyclist dies after police chase
- APNZ