Secretary of State highlights safety of US nuclear-powered warships in pointed reference to NZ law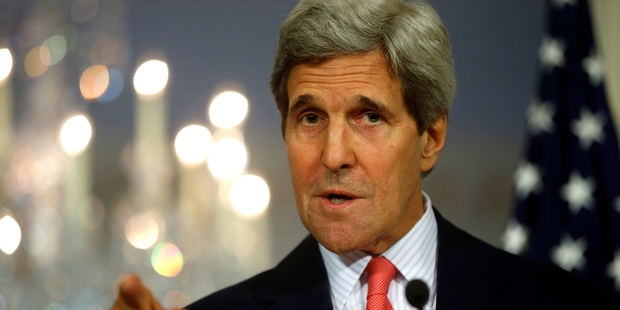 US Secretary of State John Kerry used a reception at the New Zealand embassy in Washington last night to pointedly promote US nuclear-powered warships, which are banned from New Zealand, as safe.
He made the reference in a speech about finding alternative energy to combat the effects of carbon emissions and climate change.
But instead of pointing to the record of the nuclear power industry, he referred to the safety record of the US Navy and its nuclear-powered ships boasting it had "not lost a sailor in more than 70 years in the use of nuclear power or had one accident on a ship". He attributed that to the use of nuclear power as a clean energy source and "one of the alternatives we are going to have to use".
The nuclear word has not been in the diplomatic lexicon for at least seven years when George W Bush told Helen Clark the US would no longer seek a change to New Zealand's laws.
Diplomatic relations between New Zealand and the United States were frosty for 25 years because of New Zealand's anti-nuclear laws.
Mr Kerry is an ardent supporter of clean energy. But he is also the US foreign minister and would not have made such a pointed reference without meaning to.
The reference could be making the point the US believes New Zealand's law is wrong but it could be seen as an invitation to rethink the nuclear power part of the law.
Mr Kerry spoke for nearly 15 minutes in sweltering heat at Pacific Night, an annual function hosted at the New Zealand embassy in Washington.
He wore a lei and spent time with Prime Minister John Key before their formal meeting today NZ time.
Newly appointed Pacific economic ambassador Shane Jones was there too, having just attended an Oceans conference hosted by Mr Kerry that looked at over-fishing.
It was the first time in more than 10 years a Secretary of State has attended the function, an event that helps to reinforce New Zealand's leadership role in the Pacific.
Mr Kerry, too, used it to reinforce the United States' claim to the Pacific.
"I want to just emphasise to everybody - America thinks of itself as a Pacific nation.
"We don't just border it and have an extraordinary coastline sweeping the Pacific, but we have been in the Pacific and in its far reaches for centuries."
He talked about the United States' "rebalance" of its attention to the Pacific. President Barack Obama was committed to making everyone understand the rebalance "is not a passing fancy, it is not a momentary thing".
He said the US shed a lot of blood in World War II for the ability of Pacific nations to be free. One of the freedoms was the right to be free from pollution.
Most of Mr Kerry's speech was about environmental risks.
"What is shocking to me ... is that it is not something we can't do something about. The solutions are staring us in the face.
"We have brave innovators and entrepreneurs at the cutting edge of producing alternative and renewable capacity for producing energy we need whether it is solar or wind or biomass or other forms," he said.