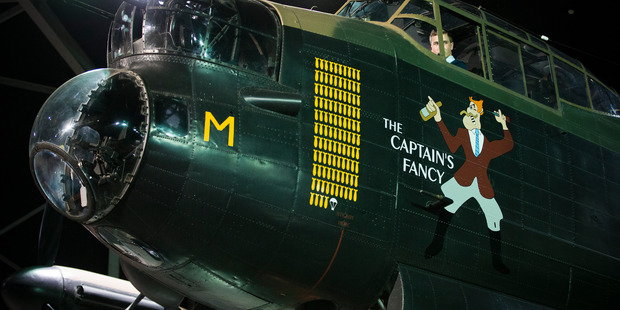 An Avro Lancaster on display at Motat in Auckland has been given the full make up of an epic Lancaster that completed more than 100 missions during World War II.
The Captain's Fancy of the 75 (NZ) Squadron of the Royal Air Force completed more than 100 missions from May 1944 to May 1945. Most Lancasters did around 14 trips before being lost.
The Lancaster makeover was revealed today at Motat's aviation hall in front of around 100 veterans, veterans' families and special guests.
The Lancaster has been given the title NE181, and now the nose art from the original The Captain's Fancy.
A caricature of Captain Rreilly-Ffoul of the Arntwee Hall from the popular comic strip Just Jake has been painted alongside the bomb tally of the aircraft.
The caricature was painted on the original Lancaster before its 39th operation. The captain painted was thought to be Flight Sergeant Lethbridge, a captain who had flown the most missions in The Captain's Fancy thus far.
The original The Captain's Fancy survived the war, however never made it back to New Zealand. It was cut up for scrap in 1947.
Motat's Lancaster Bomber was presented by the French Government to the people of New Zealand in 1964 in recognition of the 6000 New Zealanders who served in the RAF Bomber Command during the Second World War. Almost 2000 New Zealanders died serving in the Bomber Command.

Flight Lieutenant Nick Carter was part of a Lancaster Bombing Squadron during WWII. Photo / Greg Bowker
Squadron Leader Jonathan Pote said The Captain's Fancy made it through all those missions in Europe because it was "lucky, obviously, but also maintained well by ground-crew".
He said ground-crew are often forgotten in all their hard work, and were working in dangerous conditions.
He paid tribute to the officers of Squadron 75 who contributed to the remarkable fact that of the 30 planes of the Royal Air Force that reached 100 flights, the New Zealand squadron had three.
President of Bomber Command Association Ron Mayhill said "it was a lucky aircraft".
He said the Bomber Command were pleased to see The Captain's Fancy replicated in "this splendid aviation hangar" at Motat.
Royal New Zealand Air Force Chaplain Squadron Leader Stuart Hight blessed the new markings on the plane in memory of the members of the Air Force who died in battle.
- APNZ