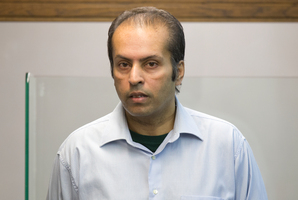 Police are reviewing their actions in the wake of the murder of Wellington woman Sarwan Lata, whose husband stabbed her to death while he was on bail for breaching a protection order she had taken against him.
In the High Court at Wellington this morning, Justice Ronald Young sentenced Rajeshwar Singh to a mandatory life sentence with a minimum non-parole period of 16 years, and a concurrent sentence of three months' jail for breaching two protection orders.
Singh, 47, a taxi driver, broke into Ms Lata's Woodridge's home in November last year and stabbed her to death after avoiding the home's new locks and an elaborate warning system of vases and chairs that a fearful Ms Lata had laid out by the front doors.
The home invasion breached his bail conditions as well as the protection order.
Read more:
• Man killed wife while on bail for protection order breach
The GPS on his taxi showed that he had stalked her and been near her work and home in the weeks leading up to the murder.
Police had a long history with the couple, investigating several claims of family violence over a 10-year period.
Detective Senior Sergeant Tim Leitch said outside the courtroom that police would look at whether they should have done anything differently.
He said Ms Lata had told friends that her husband was stalking her and she feared for her life in the lead up to the murder, but he did not believe she told police.
"To my knowledge, there was no express communication from the victim to us," Mr Leitch said.
"It's hard to look back and say if something different had been done, it would have had a different outcome. I don't know.
"We did arrest this man for the protection order breach, and he was on bail not to go [to her house]. It's difficult to see what more could have been done ... We've got to remember, at the end of the day, a protection order is a piece of paper, and it requires the will of all to make sure people adhere."
Mr Leitch said Ms Lata's family was pleased with the sentence.
"Obviously they are extremely shocked and saddened by the loss of their beloved Sarwan."
Justice Young said a probation officer report showed Singh had a "deeply worrying" attitude to women.
"You considered that you were entitled to kill her... You had a callous disregard for your wife, and her family ... You did not understand, or did not appreciate, that men do not control women. Your wife was perfectly entitled to not live with you.
"You killed your wife because she did not do as you wanted."
He noted Singh's early guilty plea.
The couple had come together in an arranged marriage in Fiji in 1991 and moved to New Zealand in 1998. They had a son who suffered from muscular dystrophy and died in 2011.
Police said the couple had a long history of physical and mental abuse. In September 2008, the Porirua District Court granted Ms Lata a protection order.
In October 2013, Singh made 38 abusive and threatening phone calls to her over 26 minutes. He was arrested and granted bail on condition that he not contact Ms Lata, or go to her house.
Ms Lata was so afraid of Singh that she reportedly slept with a knife under a pillow and a meat cleaver under her bed.
After weeks of stalking, on November 26 Singh jumped a fence and bypassed the new locks, chairs and vases by breaking the glass of the ranch slider to her bedroom. He stabbed her several times in the chest. She suffered cuts on her arms and her left hand as she tried to defend herself.
She managed to dial 111, and the line recorded her screams as they became weaker and weaker. Afterwards, he tried to hang himself, but police arrived and revived him.
Singh's lawyer, Rob Stevens, said Singh suffered from depression, anxiety and low mood at the time of offending -- though he noted that this did not reduce culpability.
"At the time he was not thinking clearly, and could not see any other way out of his situation."
Singh had since expressed remorse for "the terrible thing that he did".
But Justice Young dismissed this as not of "a nature that would justify a reduction in sentence".
- APNZ