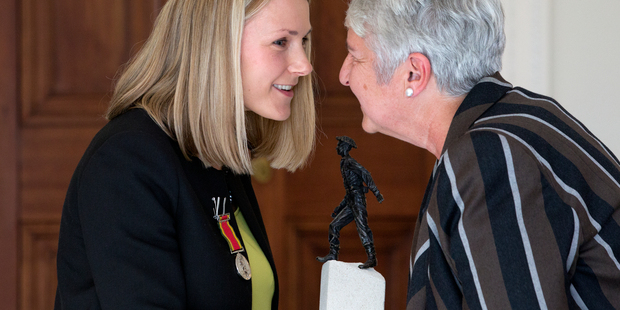 Marzena Simpson says she's not a hero for helping to save the life of a wheelchair-bound woman stuck on train tracks as a freight train barrelled towards her - but two awards for bravery say otherwise.
Ms Simpson was awarded the Royal Humane Society of New Zealand's silver medal and the Charles Upham Award for Bravery by Government Administrator Dame Sian Elias at Government House in Wellington today.
"I am very honoured and it's a great privilege to receive both awards and I don't necessarily feel like I deserve it ... it's something that anybody would do," she said.
Of the 2100 awards presented by the Humane Society, only 220 have been silver medals.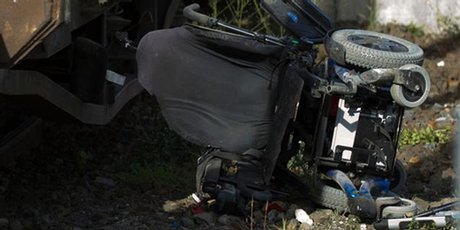 The recognition was for an act of selfless courage that took place on an Auckland railway line in February last year, when Ms Simpson and Matthieu Mereau risked their lives for a wheelchair-bound woman stuck on the tracks as a freight train sped towards her.
The pair couldn't free the wheelchair of the deaf 22-year-old woman with cerebral palsy, so tipped it over, the three of them falling forward barely a second before the train arrived.
The 22-year-old woman was hit and dragged along the side of the train for a considerable distance. She received massive injuries to her legs and head.
The train struck Ms Simpson a glancing blow and she received significant injuries to her knee, deep bruising to her leg and grazing.
Today, Ms Simpson said at the time she did not feel scared, but acted on adrenaline. It was not until after the incident she realised the gravity of the situation.
She had special praise for Mr Mereau, who was first on the scene.
"He was great, he was the one who asked me to give him a hand and I really admire him for stepping in."
Also at today's ceremony were Ms Simpson's husband Craig and their 11-week-old daughter Sofia.
Mr Simpson said he was "extremely proud" of his wife.
"She's probably braver than I am."
Mr Mereau, who now lives in London, received his silver medal at Buckingham Palace last October.
Dame Sian said Ms Simpson and Mr Mereau did "what very few of us would contemplate" in pushing fear aside to save a life.
"What they've done is extraordinary."
The 22-year-old's mother told APNZ she was "eternally grateful" to Ms Simpson and Mr Mereau for their actions.
"Words can't express what she and Matthieu did," she said.
"My daughter is making a good recovery, she still has residual effects from the accident but she's working hard to overcome them."
Her daughter had moved back into a flat, with support, and was even travelling by train again, her mother said.
- APNZ