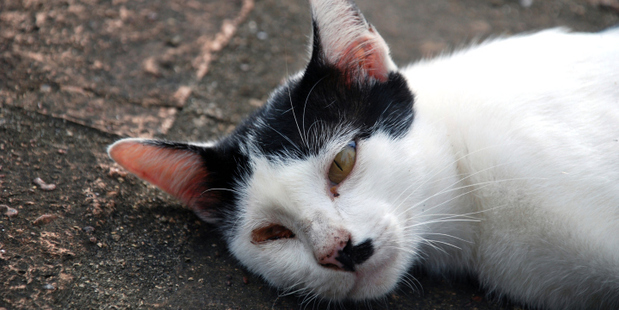 The police and SPCA have carried out a search of a Raglan property as part of an investigation into how the bodies of two cats ended up dead in rubbish bags.
The investigation into who is behind the cat deaths comes after about 30 cats disappeared in the seaside town in the past year.
A worker discovered a dead cat wrapped in plastic in a rubbish bag in February at the Raglan dump, on the outskirts of the town.
The discovery follows an incident last August when one of Julia Hill's cats was found half-frozen, wrapped in plastic and dumped in a rubbish bag outside a neighbouring property. Ms Hill has had about four cats disappear over several years.
Sergeant Neil Mouncher, officer in charge of the Raglan and Ngaruawahia police stations, said police had been working with the Waikato SPCA on the matter since August, but at this stage there was no evidence the cats had been killed inhumanely.
The Waikato SPCA sent the latest cat - a black neutered male whose owner has not been identified - to Massey University for an autopsy, but the cause of death was not found.
Both cats were initially taken to the local veterinary clinic Anexa Raglan, which was also unable to identify how they died but said it looked as if they had been drowned or frozen so might have been missing for some time before their bodies were disposed of.
Anexa Raglan head nurse Donna Rickard said the clinic kept a record of missing cats and was aware of three which had disappeared this year and about 24 last year.
"These were people who went out and looked everywhere for their cats.
"They thought if my cat's gone and been run over I will find it, if it's dead around the property or in the bush somewhere I'm going to find it because it will smell.
"But there were no signs of these cats. They just disappeared off the face of the earth."
Hamilton actor Aidee Walker and her business partner Alexander Gandar have produced a three-minute documentary about the alleged cat killers in Raglan. Catkiller was launched last night.
Waikato district mayor Allan Sanson said he had received about 600 emails from around the world condemning the killing of the cats.
"I had a lot of people from around the world who thought I could do something about saving the cats in Raglan."
The Waikato SPCA could not be reached for comment yesterday.