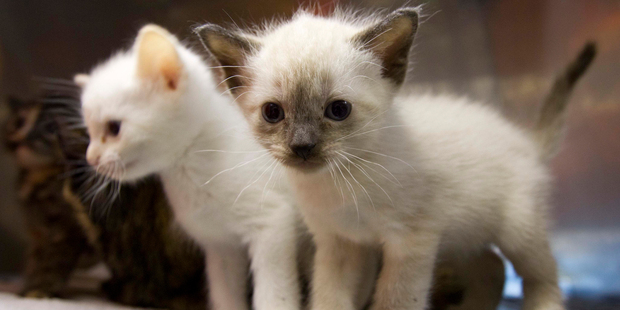 Seeking internet stardom? Look no further than your furry, friendly neighbourhood cat for pointers.
According to new research from Massey University, cat videos are the most popular "cute" videos around.
Footage of the small felines, behaving exactly as they do with no camera in play, receive more clicks than ones with babies or dogs, the research showed.
Read more:
* Grumpy Cat hits her terrible twos
* Ellen DeGeneres, Rebel Wilson form cat rap supergroup
* How cats won the internet
Dr Radha O'Meara, an English and Media Studies lecturer at Massey's Wellington campus, analysed hundreds of the videos as part of her research, and found people preferred watching cats online because the animals were oblivious to being filmed."
"Cat videos are comparably much more popular and cats don't seem to acknowledge the camera at all and just do whatever they like, they are oblivious to it," Dr O'Meara said.
"I think that's really appealing to audiences who are used to being under the gaze of the camera these days.
Watching cats flounce around on camera, completely unaware filming was occurring, meant viewers were able to "carry out their own surveillance".
Watch more:
* Rebel Wilson & Ellen rap duo
People watching the online videos were able to see what it was like to undertake surveillance without causing problems for the things they were observing, Dr O'Meara said.
"Current representations of cats, including these videos, seem to emphasise their sociability with humans, association with domestic space, independence and aloofness, and intelligence and secretiveness."
Unlike their canine counterparts, which appear to look at the camera directly, cats seem to be unaware of their observers, she said.
"Cat videos employ a unique mode of observation, we observe the cat, which is unencumbered by our scrutiny. This lack of self-consciousness and sense of authenticity are key to their reception as 'cute' videos," Dr O'Meara said.
Dr O'Meara's research into online cat videos has been published in the academic journal M/C Journal.
- APNZ