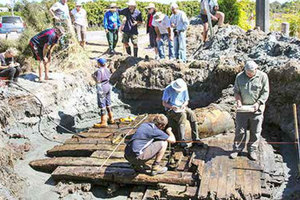 The section of a ship excavated at Cape Foulwind just over a year ago may have come from the Mountain Maid, wrecked at the Buller River mouth in the 19th century.
The wreck was first discovered more than 30 years ago and excavated again for research last March.
A report recently released by Southern Pacific Archaeological Research concluded the fragment was likely to be from one of three ships wrecked at or near the Buller River mouth.
It was most likely to have come from the Mountain Maid, a brig built in Aberdeen and wrecked at the mouth of the river, with most parts ending up on the Carters Beach shoreline in 1868.
The other possibilities were the Yolande, wrecked in 1897, or the Oceola wrecked in 1887 while being towed out of Westport with a cargo of coal.
The Mountain Maid was wrecked at a time when the beach was more or less adjacent to the main road, which is where the wreck fragment was found.
Up until 1970, 12 shipwrecks were reported near the mouth of the Buller River.
The report said the fragment appeared to be a portside section of the bow quarter of the hull.
It was possible, but less likely, it was a starboard side section from the stern quarter.
It was from a ship likely to be 30 to 50 metres in length, with a six to eight-metre beam and about four metres in depth.
The ship was likely to have been made using typical 19th century construction methods.
At least some of the timbers used were of northern hemisphere species.
Researchers weren't able to identify any information relevant to the wreck event.
The report said the storm-washed shipwreck fragment appeared to have been deposited close to the high tide mark.
It was buried in sand to a depth of about 1.5 metres and long after deposition the whole fragment was seriously modified with a chainsaw to allow placement of a culvert.
The archaeological significance of the shipwreck fragment was largely in the information it provided about wooden ship construction techniques.
Since it was a fragment, and not a complete ship, it allowed non-intrusive investigation of many elements of a ship's hull.
It was also of significance to the local community because of its relevance to shipping and the dangers of West Coast ports.
Given the absence of any marine encrustations on the surface of the fragment it was reasonable to assume the wreck occurred fairly close to the find site, the report said.