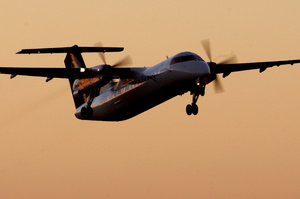 Air New Zealand is investigating an incident at Easter weekend that saw passengers on a replacement bus ride get trapped overnight in slips.
The 40 minute flight between Christchurch and Nelson became a 25-hour bus ride when bad weather forced the cancellation of a number of flights.
Three busloads were forced to spent the night on board, as slips made the road impassable, with another forced to find accommodation in Kaikoura at one am.
One of those on board, Rachel Thomas, says her driver ignored obvious signs that the road was impassable.
"We were being forced to drive on the other side of the road around bends, the sea was rough - lots of surface flooding.
"There were cars pulled over with their bonnets up, lots of dangerous signs that the roads weren't in the best conditions."
Regional Airlines general manager Sarah Williamson says the investigation will uncover if Air New Zealand did anything wrong.
"Until we get through the investigation we won't know, but certainly those journeys were very long and rather exhausting for people and that's not a situation we want to put our customers in.
"For customers it was a very long and daunting journey. It was never our intention to put them through what we put them through."
Passengers have had their tickets refunded and have been given $250 compensation.