Barefoot global initiative highlights disadvantaged children without shoes.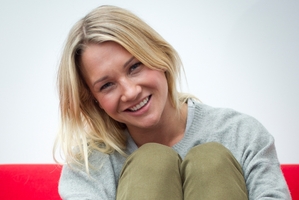 Going without shoes could be quite difficult for dancer, snowboarder and television personality Hayley Holt.
But for 24 hours that's what she will do in a bid to help raise awareness of people around the world who cannot afford a pair of shoes.
"I quite enjoy going without shoes, actually, but this is for a good cause," she said.
But Holt, a presenter on sports programme The Crowd Goes Wild, said it would be interesting to see what stories she would be covering today, as it could mean dirty, sore or cold feet.
"I haven't actually got my story yet, so I could be out on a field somewhere in bare feet. If I have to walk in bare feet in the rain - when it's not my choice - then it'll definitely hit home, I think."
The One Day Without Shoes is a global initiative launched by shoe brand Toms.
For every pair of shoes it sells, the company gifts a pair to someone in need.
It is estimated that up to 40 per cent of the world's population do not own a pair of shoes. Many of those people are young children who have to walk on tough terrain for long distances to get to school or get clean water for their families.
"When I was told, I couldn't believe it. I never realised it was that bad and how we're really lucky here in New Zealand. Although I do know it's an issue here too."
Holt, who grew up in Epsom, admitted it was not something she saw as a child. "I was involved with [children's charity] KidsCan for a little bit and it was something that we were seeing; kids with no shoes."
KidsCan is a charity focused on supporting disadvantaged children.
Holt will join other Kiwi celebrities including singers Boh Runga, Anika Moa, Ladi 6 and radio hosts Jay Jay, Mike and Dom from The Edge.
On the web
www.toms.com/onedaywithoutshoes