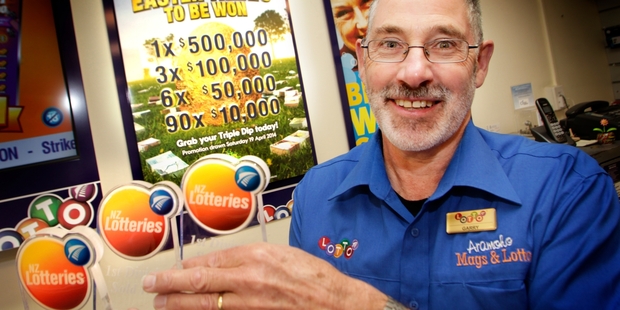 Selling one prize-winning ticket in a Lotto promotion is difficult enough, but Wanganui outlet Aramoho Mags and Lotto struck the trifecta in Lotto's 100 Easter Treats promotion.
People who bought Triple Dip tickets in the lead-up to the Easter weekend were eligible for cash prizes and the Aramoho outlet sold three tickets that each won $10,000.
Store owners Gary and Wendy McElwain said there are about 1300 Lotto outlets around the country and selling one prize winner is not easy.
"But to sell three of them in the one promotion offering 100 prizes, well the odds have got to be very long," Mr McElwain said.
Mrs McElwain said they had been at the shop on Monday doing some work when she decided to check the results.
"I was in the office and Gary was out in the shop when I saw we'd sold one winner. Then up popped another. When I saw we'd sold a third winner that's when I let out a screech."
Mr McElwain said as of yesterday none of the winning tickets sold through their store had been redeemed.
And while the ticket holders may be taken into another outlet he urged everyone who had bought the Easter Treats Triple Dips to check their tickets.
Luck was riding with the Wanganui region in that promotion with three other $10,000 winning tickets being sold at one other city outlet as well as retailers in Ohakune and Taihape. Another ticket came to the Manawatu-Wanganui district but that one was sold online.
The $500,000 prize went to a ticket sold in Christchurch.
For more articles from this region, go to Wanganui Chronicle