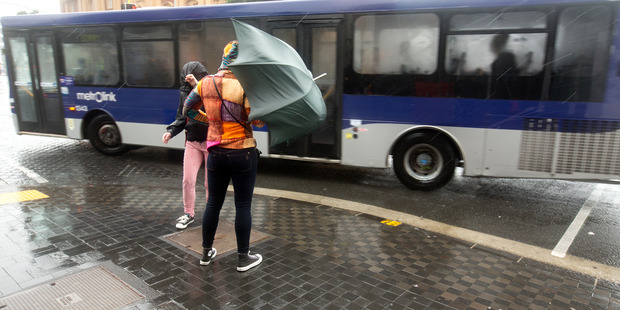 Auckland residents who went without hot water for four days can finally take warm showers again, but some remain upset at how the issue has been handled.
Pockets of west Auckland and the North Shore were left without hot water since Thursday, when the remnants of Cyclone Ita brought down trees and power lines, cutting electricity to thousands of customers.
Power has since been restored but some hot water pilots - which supply electricity to hot water cylinders, independently of the main power supply - have not yet been reconnected.
Crews from lines company Vector have been scrambling to reconnect pilots since yesterday, and many households have since had their hot water restored. Others may have to wait a little longer as work continues.
Read: Aucklanders frustrated over water outage communication
Titirangi resident Jude Potts, who lives with her daughter and son-in-law, said her house had gone without water for four days since Thursday.
It was only restored this morning.
"We've got water on, hallelujah," she said.
"You don't realise how much you miss these things until you haven't got them."
Ms Potts said Vector had been good to deal with, but power company Contact and its contractors had been "hopeless".
"You had to wait for hours on the phone and nothing would happen," she said.
"Really, they should have been a bit more on the ball, I think. It would have been nice to have had some information."
Ms Potts would like an apology or a discount, and was considering changing electricity providers.
Red Beach resident Janine Cliff also went without hot water for four days until this morning. She said Contact did "absolutely nothing" to let her know what was going.
"The whole thing was not very well handled," she said.
"We couldn't find out that they were actually even aware of our problem. We couldn't log the fault or speak to a real person.
"I can accept why there's no hot water, and I know it's illegal to connect to your mains, but we have this every time there's a power cut."
Ms Cliff said it had been the fourth time without hot water in the last year.
Contact spokeswoman Rachel Benton said information about the faults had been hard to come by, but the company had been worked hard to understand the problem and keep its contact centre up to date.
"We know that some of our customers have struggled," she said.
"We do apologise unreservedly to those customers and will be looking at what we can do to improve the way that we share information about outages like these."
Vector spokeswoman Sandy Hodge said crews were making good progress in reconnecting affected hot water pilots.
Crews were currently working at Ranui, Te Atatu South and Bayswater. They would then move on to Huapai, Glendene, Campbells Bay and Narrow Neck, Ms Hodge said.
Anyone without hot water should ring Vector to ensure the company was aware of the situation.
Ms Hodge said Vector appreciated its customers' patience in dealing with the outage over the Easter weekend.
- APNZ