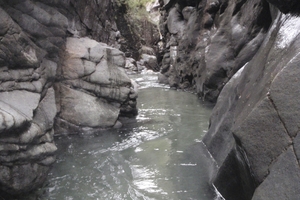 A French tourist who was washed over two waterfalls after being swept away in a swollen creek last night is lucky to be alive, her rescuers say.
The woman, originally thought to be German, stunned searchers when she walked into the Woolshed Creek car park in the Mid Canterbury high country at 7.45pm - almost four hours after the alarm was raised - with only a few bumps and bruises to show for her remarkable ordeal.
Methven Search and Rescue's Don Geddes said the woman was incredibly lucky to be alive; if she had not managed to cling onto rocks and pull herself out of the water at the point she did, she could well have ended up being washed into the South Ashburton River and out to sea; lost forever.
The woman was walking the Mt Somers Walkway with her partner and they were only about 15 minutes away from their destination - Woolshed Creek hut - when she slipped into a stream which was raging due to recent rain, and was swept away.
"Where it happened, normally you can step across without even getting a splash on your boots,'' Mr Geddes said.
The woman and her partner did not want to speak to media but through police, thanked their rescuers and the Methven community for their assistance.