A women's group has vowed to track down the origin of a diamond silver fern brooch gifted to the Queen in 1953 and worn by the Duchess of Cambridge as she arrived in New Zealand this week.
Reports from the time of the Queen's visit six decades ago say the intricate pin was a Christmas gift from "the women of Auckland" - but who those women were is a mystery.
Can you help track down where the brooch came from? Email us here.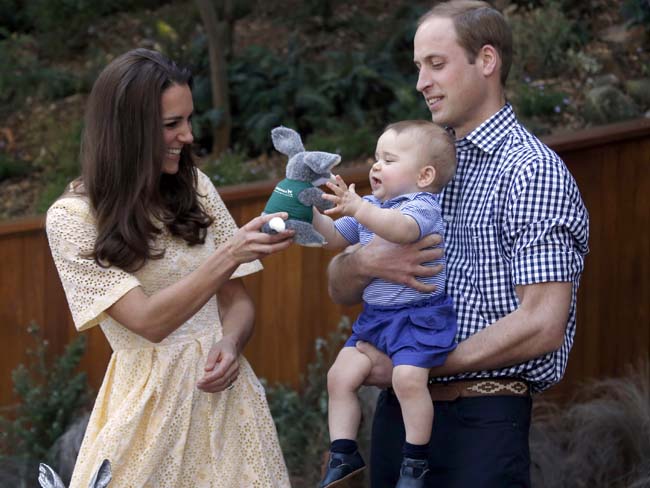 A spokeswoman for Government House, Wellington, said it was understood that a fundraising effort by a committee of Auckland women's organisations was organised to purchase the brooch. But other than that, she did not have any specific details about the purchase.
Watch: Raw: Snapshot of Royal Prince George playdate
A snapshot of Their Royal Highnesses the Duke and Duchess of Cambridge and Prince George at the Plunket play group at Government House. Courtesy GovernorGeneralNZ/YouTube
Several women's groups in Auckland - the National Council of Women NZ, the Young Women's Christian Association Auckland branch, the NZ Federation of Graduate Women and the Maori Women's Welfare League - had no idea whether they played a part in organising the gift of the piece of jewellery.
A long-time member of the YWCA, Marie Taylor, said several former colleagues had since become "very curious" and were now on a hunt for the origins of the brooch.
Watch: Royal visit: Playdate for Prince George
"It's got us all thinking now. It's very beautiful, but we don't know where it came from." Mrs Taylor acknowledged that many of the women's groups back then would not have been able to afford such a piece of jewellery, and she wondered whether someone "further up" in society had organised it.
"It could have been someone like the mayoress at the time, who's just managed to fund the brooch and then gifted it to the Queen from the women of Auckland."
The Herald tracked down family members of the Auckland mayor at the time, John Luxford, and his wife Laura - both of whom have died.
Watch: Royals: Prince George lands in NZ
No one in the family had heard any stories about Mrs Luxford organising a brooch for the Queen.
If you're out spotting the royals, we want your snaps. Share them with us, including details of where you took the photo, here.