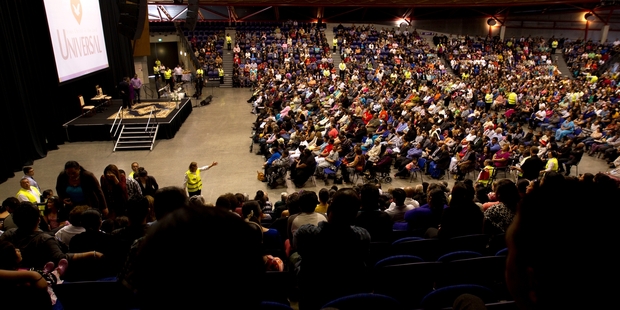 He asked for a miracle and he appeared to get one.
Minutes after Bishop Victor Silva called on Jesus to cast out "the spirit of sickness" causing pain to the lives of the hundreds of people packed into the "holy oil" service in Auckland yesterday, a young man was helped on to the stage claiming his sight had been improved.
Gaby Dean, 27, who said he had been blind since birth, told the crowded Vodafone Events Centre he could now distinguish the lights on the ceiling.
His testimony was met by a loud round of applause.
Moments before, the charismatic Bishop Silva asked Jesus to "anoint" the hands of the people present with his healing powers, before asking the congregation to place their hands on their heads, or a part of their body that was causing pain or illness, and follow his prayer.
"In Jesus Christ's name, I command the sickness, the pain, the spirit of sickness that is oppressing these men, these women, to get out," he said.
"The cancer, the tumour in the lung, that problem in the back, the severe pain and everything that causes that pain, in Jesus Christ's name I command you, get out of this person's life now. In Jesus' name be free."
It was Mr Dean's story that grabbed everyone's attention.
"I was touching my eyes and I could feel something like relief coming off me," he told the bishop. "As you said, 'Amen', I looked up. I could see the lights."
Speaking after the service, Mr Dean said it was his first time at one of the events. He had previously not been a man of faith and did not belong to any church, but his experience had made him want to attend every Sunday.
Read the Herald's original story here.
- APNZ