All it took was ingenuity and handy materials for a bloke to construct a comfy seat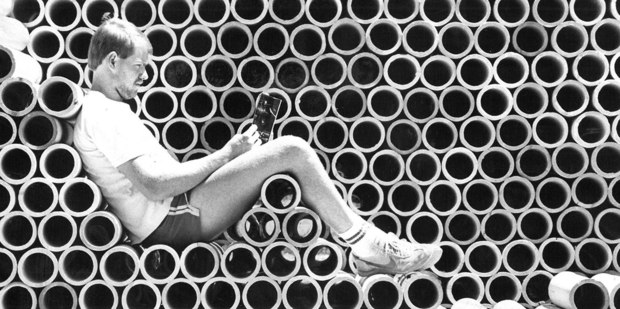 Tony Holmes' stubbies might give way to something covering more skin these days. And he'd more likely hold an iPhone than a car magazine. But an undisturbed smoko on a sunny summer day is every tradie's birthright.
For Holmes, the chance for a decent break was worth intricately moving clay pipes at Clarks Potteries in New Lynn.
"I put them up so it looked like a bit of a couch," he says, recalling his favourite spot.
The thought of shoulder blades resting against a clay drainage pipe may not invoke comfortable thoughts but Holmes swears this was the best spot for a smoko back in November 1985. The elevated position at the Taylors Rd yard gave Holmes a good vantage point "if any nice girls walked past" and his stylish attire no doubt caught their eye, too.
Holmes enjoyed his job. "I was head yardsman and I was also going in the factory and making pipes on the machines and what-not. It was a variety role, really."
It was a good job for a 22-year-old, with plenty of toys to play with and new people to meet.
"The yard was quite good because you got to deal with customers, you got to deal with drainlayers all day. You were outside and driving tractors."
The firm was vertically-integrated, making clay products from material found on-site.
"Out the back we had our own clay pit. So you'd take the front-end loader and the tractor and the boss would bring the bulldozers over and we'd bring our own clay from round the back into the factory."
Clarks eventually moved to Avondale. Holmes spent nine years at the company and has since worked for other firms including Croxley Stationery. He says the clay pottery industry is smaller nowadays, with more imports and fewer locally made products.
The days of Holmes' pipe couch are over but all those clay products left quite a legacy. Clarks provided a big chunk of Auckland's countless old drainage pipes, wine rack tiles, and other pottery products.
"I come across a few of those every now and then," Holmes says.
And the stubbies? "As you get older you get away from those sort of things," he laughs.