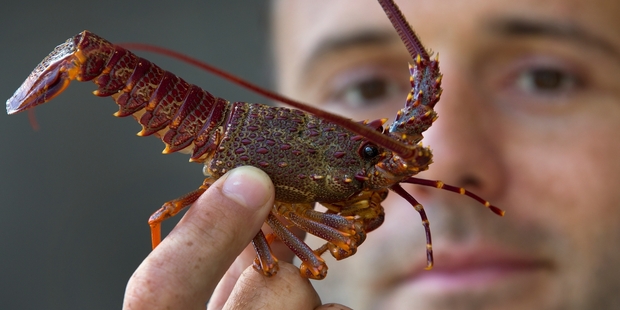 Crayfish fishing around our coastlines is thought to be triggering a damaging sequence of effects that also threatens the species' infants.
Marine scientists have observed that removing a top predator from the food chain can trigger a cascade effect, allowing populations of their prey to boom in uncontrolled numbers.
This effect, called trophic cascade, has been observed around New Zealand's northeastern coast with kina populations, following the reduction of their predators, such as snapper and crayfish.
Where kina population numbers grow uncontrolled, they eat through kelp forest habitats, leaving vast bare areas called urchin barrens and taking away what is believed to be a key nursing area for juvenile crayfish.
Jan Hesse, a PhD student at the University of Auckland's Leigh Marine Laboratory, has been running experiments on habitat preferences for larval crayfish when they are swimming back to our coasts.
"We were able to identify strong trends that baby crayfish seek out kelp forest habitats over urchin barren reef structures," he said.
"This led us to the conclusion that there might be a survival difference depending on habitat for growing juvenile crayfish as well." Mr Hesse, who has developed a new method for observing predation rates on juvenile crayfish, has proved that there is a distinct difference between barren and kelp forest habitats - with significantly higher mortality rates for urchin barren areas.
Because there were too many factors at play, it was difficult to estimate how many crayfish may have been lost to this process, but it was quite obvious that there had been a drastic decline in population, he said.
Mr Hesse described the ocean as a highly complex ecosystem with a very sensitive equilibrium, which could be easily disrupted by human impacts such as fishing.
If there were to be changes to the fishing of crayfish, it needed to consider multiple factors.
"A simple change in the quota might not result in restoring a healthy crayfish population around New Zealand," he said. "With the help of marine reserves, where top predators are not removed by fishing, we could observe when the top predator returns the habitat is shifting back to its natural state of vast kelp forests.
"However, this effect is not happening fast and it took a decade to see these changes in New Zealand's oldest marine reserve near Goat Island."