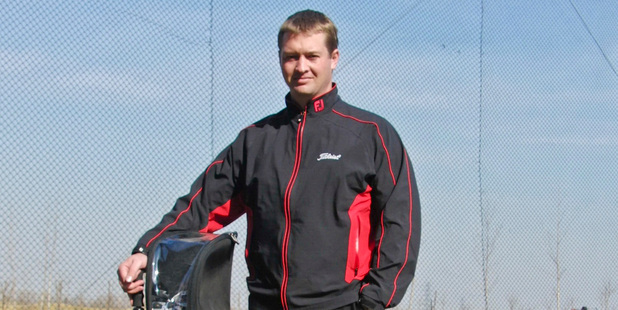 Selling tea to China might not be a good business proposition, but Northland professional golfer Gareth Winslow expects selling a good tee shot will be a different story.
Winslow, 35, set up the 09 Golf Academy in Beijing last August after a two-year spell as a coach of the Chinese Women's national golf team, guiding them to silver medals in the 2010 Asian Games.
Golf is still a minority sport in China - but it is growing.
The Communist Party banned it until the 1980s because if was deemed too bourgeois, and the first golf course did not appear until 1984. There is a ban on new golf course developments because they are considered a bad use of land. Despite that, there are now more than 600 - including the massive 20 square kilometre Mission Hills course in Shenzhen, where Winslow had his first job in China in 2004 at the David Leadbetter Academy.
His fledgling company was still very small, with just four coaches based at the new Cathay View golf course near Beijing. His business partner was a local Beijing man who had been his assistant coach for the China Women's Team.
The sport is popular among officials and business people - which makes it good business as well as sport.
"It is more business people than anybody else. Well, people with money you'd have to say because golf is not cheap in China. Club membership, green fees, equipment, lessons. Nothing is cheap here. I'm not cheap either. The market price is the market price."
The potential earnings were a bonus, but not the reason he ended up in China.
"I didn't know much about the China golf market at all before I came here. I didn't have a clue what I'd be earning."
He said he'd had a fascination with the Chinese culture since he was a young boy, had trained in martial arts and had an interest in the way of life of Buddhism.
He was selected to coach the Chinese Women's team on a 2-year contract leading up to the Asian Games after the China Golf Association decided to appoint some foreign coaches for the first time. The Games were on home soil, and China wanted to do well so the school-aged players in the team were given a full year off school to train.
Teaching clients with little English was problematic at first. He had a translator, but taught himself Chinese, learning at night by taking online courses. He is now fluent enough to survive without the translator. 'I barely speak English at all here."
Winslow, who did his PGA training at Waitangi Golf Club, left New Zealand in 2002 to work for a David Leadbetter Golf Academy in Selangor, Malaysia, then Germany before moving to China in 2004.
"I decided to spread my wings because the golf market in New Zealand then, and probably now, is relatively small. I felt I needed to go overseas to learn more."
He can't see himself leaving any time soon. But he still occasionally turns to other New Zealanders in the expat community in Beijing, if only for the similar sense of humour. "You have to have some expat friends in China. China doesn't really have a lot of sarcasm, so it's hard to be sarcastic. It's just nice every now and then to be able to talk some crap with people from your own country or a similar culture."