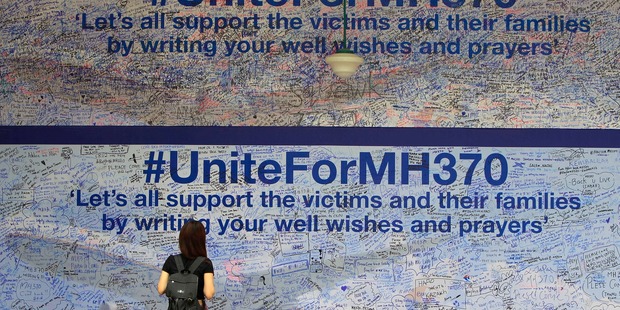 The search for a missing Malaysian airliner has entered its 12th day as Australia continues to co-ordinate the search in the southern Indian Ocean, more than 3000 kilometres southwest of Perth.
Eleven days after contact was lost with Malaysia Airlines Flight MH370 and its 239 passengers and crew, there has been minimal progress in determining precisely what happened or where the plane ended up.
"We are still clueless at to what happened to the missing plane 12 days on," a Malaysian aviation official told DPA on Wednesday on condition of anonymity.
Read more from Herald reporter Lincoln Tan in Kuala Lumpur:
• Grieving families call airline heartless over hotel move
A local newspaper reported that investigators found landing strips in Diego Garcia, Maldives, Sri Lanka and India in the flight simulator seized from the house of the plane's pilot, Zaharie Ahmad Shah, but a police source said he was not aware of such report.
"As far as I know experts are still examining the flight simulator," he said.
The search for the missing flight MH370, carrying 239 people on board, has been expanded to 7.68 million square kilometres, slightly larger than Australia, after Prime Minister Najib Razak said on Saturday the plane flew for up to seven hours toward an unknown destination after it vanished from radar.
Thailand's military says its radar detected a plane that may have been MH370 just minutes after the jetliner's communications went down.
It also says it didn't share the information with Malaysia earlier because it wasn't specifically asked for it.
A twisting flight path described on Tuesday by Thai air force spokesman Air Vice Marshal Montol Suchookorn took the plane to the Strait of Malacca, which is where Malaysian military radar tracked MH370 early March 8.
But Montol said the Thai military doesn't know whether it detected the same plane.
When asked why it took so long to release the information, Montol said, "Because we did not pay any attention to it. The Royal Thai Air Force only looks after any threats against our country, so anything that did not look like a threat to us, we simply look at it without taking actions."
He said the plane never entered Thai airspace and that Malaysia's initial request for information in the early days of the search was not specific.
"When they asked again and there was new information and assumptions from (Malaysian) Prime Minister Najib Razak, we took a look at our information again," Montol said.
"It didn't take long for us to figure out, although it did take some experts to find out about it."
The current search area, which was only properly identified after a week of fruitlessly scouring the South China Sea, is enormous - stretching from the depths of the Indian Ocean, up and over the Himalayas and into central Asia.
Twenty-six countries are now involved in that search in a northern corridor over south and central Asia, and a southern corridor stretching deep into the southern Indian Ocean towards Australia.
A French expert who took part in the search for Air France Flight 447, which crashed in the Atlantic in 2009, said finding the Malaysian plane was a much tougher proposition.
"Here we simply have no idea of the location of the aircraft, because there were no ACARS signals," said Jean-Paul Troadec, a special adviser with France's civil aviation accident investigation agency.
Malaysia has deployed its navy and air force to the southern corridor, where Australia is taking the lead in scouring a huge section of ocean off its west coast.
"It will take at least a few weeks to search the area thoroughly," said John Young of the Australian Maritime Safety Authority.
Chinese state media reported late on Tuesday that China was expanding its search efforts to waters southeast of the Bay of Bengal and west of Indonesia.
Xinhua said nine of its vessels would be involved and would focus on seas near Sumatra, an island in western Indonesia.
Relatives desperate for information on the fate of loved ones on board the missing jet have reportedly threatened to go on hunger strike if the authorities in Kuala Lumpur are not more forthcoming.
"What we want is the truth," one woman said, after a meeting with Malaysian authorities, according to the BBC. "Don't let the passengers become the victims of a political fight."
Speaking yesterday, the official leading the hunt for missing Flight MH370 dismissed criticism voiced by officials in China and the US that Malaysia had itself been reluctant to share information with foreign governments. He said such was the desire to find the plane, that Malaysia had shared information with other countries that could potentially weaken its national security.
"The entire search area is now 2.24 million square nautical miles. This is an enormous search area," said Malaysia's Transport Minister, Hishammuddin Hussein. "And it is something that Malaysia cannot possibly search on its own. I am therefore very pleased that so many countries have come forward to offer assistance and support to the search and rescue operation."

A young Malaysian boy prays at an event for the missing passengers. Photo / AP
The search now covers more than 2.2 million nautical square miles - an area the size of Australia. At least 25 countries are involved in the operation. Yet there still remains not a single physical trace of the plane or the people who boarded eleven days ago.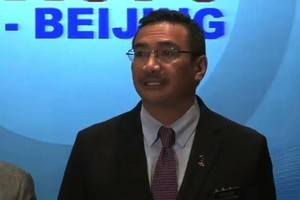 Officials were last night still searching along two arcs that cut north and south through swathes of Asia. It is believed that it was from somewhere along this line that the final "ping" satellite signal from the plane was sent. Amid speculation about which way the plane might have turned, officials say both areas remain equally important to investigators.
Read more:
• Theories abound as officials fail to find the answers
• Q&A: Missing Malaysia Airlines flight MH370
• Flight path programmed in
Mr Hussein spoke as investigators continued to focus attention on both the passengers and crew of the plane, searching for any clues as to who may have been responsible for diverting the jet off course. Over the weekend, officials said they believed the actions of the plane as it veered from its planned route and turned sharply West, were consistent with the intentional action of someone onboard.
Mr Hussein said Australia, Japan, New Zealand and South Korea were sending additional hardware to search in the massive southern Indian ocean. He said he had also spoken with US defence secretary Chuck Hagel, given the US's search and rescue capabilities. He said he had also spoken with his counterparts in China, which had also vowed to help search in China itself and along the so-called southern corridor.
Meanwhile, checks into the background of the more than 150 Chinese citizens on board the missing Malaysia Airlines jetliner have uncovered no links to terrorism, the Chinese ambassador in Kuala Lumpur said.
The remarks will dampen speculation that Uighur Muslim separatists in far western Xinjiang province might have been involved with the disappearance of the jet.
At least 26 countries are now assisting in the search for the plane, intensifying challenges of co-ordinating ground, sea and aerial efforts.
- AP / AAP