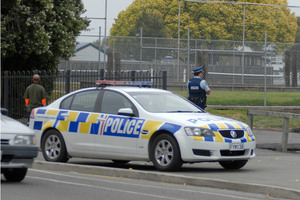 A car veered onto a footpath and struck two students walking outside Burnside High School this morning, police say.
The students, both 13-year-old girls, were taken to hospital with moderate injuries after the incident about 7.30am.
Initial inquiries suggested a car travelling north on Greers Rd had stopped to turn. Another car travelling behind had veered at the last minute to avoid the turning car, Christchurch police spokesman Stephen Hill said.
"It had gone up onto the footpath, which is where the students were struck," Mr Hill said.
Both injured pedestrians were believed to be students at Burnside High School.
Police inquiries were continuing.
"We'll be speaking to the drivers involved and to witnesses."
A St John ambulance spokeswoman said the girls were taken to Christchurch Hospital with moderate injuries.
Hospital spokeswoman Amy Milne said the girls were both in comfortable conditions. One of the girls was expected to be discharged this afternoon.
- APNZ