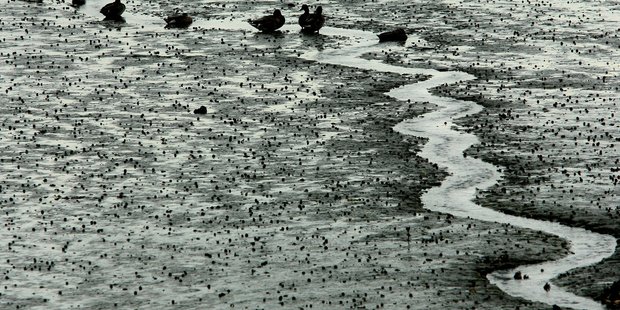 Two jetskiers wearing only shorts and t-shirts spent 10 hours stuck on mudflats in the Manukau Harbour yesterday with no light to signal rescuers as it got dark.
The men set off from the public boat ramp at Weymouth Boating Club about 3pm for what was supposed to be an hour or two tandem cruise on notoriously treacherous harbour.
Maritime police Senior Constable Steve Westlake said they had left their cellphones in their car and had no lights, flares, navigation or other communication equipment on board.
The men, both in their mid-30s, were wearing lifejackets and had told people that they would be back by 5pm, who notified emergency services when they didn't return.
The police hovercraft, which is able to traverse the Manukau's many mudflats, was launched from Auckland Airport, as was a police Eagle helicopter.
It eventually spotted the men stuck on a mud bank near the airport about 1am and directed the hovercraft to their location.
It was unclear whether the jetski had run out of fuel or if it had run aground in the receding tide.
The men were both shivering cold but uninjured, while their jetski was found floating in the harbour this morning by a member of the public who notified police.
Westlake said the men's lack of preparation could have cost them their lives.
"You have to wonder why they didn't take cellphones or any other safety equipment. It can get very cold on the water, particularly if you're only wearing t-shirt and shorts.
"They can count themselves very lucky that they were spotted."
- APNZ