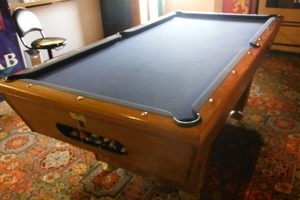 Calling Jake the Muss: do you want your pool table back?
A Hawkes Bay publican has put up for auction a pool table that once featured in the Kiwi film Once Were Warriors and was later acquired by actor Temuera Morrison who played the pub-brawling tough guy.
Bidding on TradeMe for the classic-style table - which comes with the original coin mechanism and a roll of 50c pieces - began at $1 and had last night reached $2000.
The page has also received thousands of views.
One prospective buyer joked: 'Do I have to know how to cook eggs before I bid on it?"
Flaxmere Tavern owner Mike Benefield said Morrison acquired the table after the film was made and set it up in the games room of his Rotorua home.
Later, Mr Benefield bought it at an auction and created an area for it in the tavern's TAB room, surrounded by movie memorabilia.
Punters who doubted its authenticity had only to look at the glass-covered inscription on its side, signed "Temuera Morrison, Jake the Muss, Once Were Warriors".
Mr Benefield said it had been an honour to have it in the pub, where it hosted Tuesday night speed-pool tournaments and free play on Sundays.
While its return had more than doubled what he paid for it, he had to let it go to create space for competition tables.
"We're all quite sad about it leaving Flaxmere, especially because of that connection we've got here of being a little rough around the edges," he said.
"But it's not getting any younger, and I think it's time it saw less play and it was more venerated as the object that it is - it's a little bit more iconic than something that should be sitting in my TAB."
Mr Benefield hoped Morrison, who was filming in a remote area yesterday and unavailable for comment, might even reclaim the table.