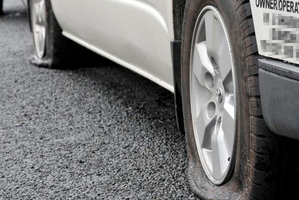 The deliberate slashing of 12 tyres on airport shuttle vans has raised suspicion about a taxi war in Dunedin.
On arguably his busiest day of the year, the manager of Airport Shuttles Dunedin woke to discover all the tyres on two of his vans with luggage trailers had been slashed overnight.
The vehicles were parked in Bowler Ave, Mornington and were tampered with about 2am Saturday, he said.
"A neighbour heard some noise about 2am, but didn't get up to see what it was."
The manager, who asked not to be named, had taken almost 300 bookings for Saturday, mostly from tertiary students arriving in Dunedin to start their first semester.
He believed a rival was behind the wilful damage, which was "definitely not random".
No other vehicles in Bowler Ave were touched, and the vans had always been parked in the street without incident, the manager said.
"It was a deliberate act to try to get us off the road on the busiest day of the year. Of course, you can't point the finger or blame anyone but you don't have to be a rocket scientist to figure out a rival is behind it."
He alerted police and used four spare tyres to get one of the vans on the road as early as possible.
Other vehicles were dispatched to meet all the Saturday bookings, so there was no loss of business, but the replacement of tyres would cost about $2500, he said.
Whether the damage was covered by his insurance would be known this week.
Senior Sergeant Dave Scott said police would welcome any information concerning the incident.