Dean Lonergan and business partner David Higgins know what it is to stare in the face of bankruptcy. But next weekend, they will kick off their biggest event yet, the $7.5 million NRL Auckland Nines.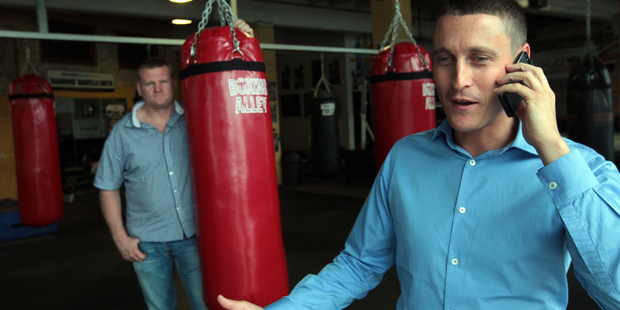 It was the morning of October 3, 2009, and 30-year-old David Higgins had woken up $500,000 in a hole over a boxing match.
The young event promoter had been running business conferences and hosting celebrity speaker banquets for a few years but had been sweating blood for very little money. While talking to a contractor at one of the events, he remembered boxer Shane Cameron challenging big name David Tua years before.
Higgins started to fantasise. What if he could set multiple revenue streams for the fight, things like corporate hospitality, sponsorship, pay per- view sales, and broadcast rights? "Why not take the risk and offer what I thought the fight was worth? So I offered Tua $500,000."
Cameron wanted the same amount, so the fight became the bout with the $1 million purse - unheard of in New Zealand boxing circles. As soon as the news got out, the criticism started to fly. No way it's worth $1m. These young guys are going to go under. Despite completely running out of money several times coming up with the $2.5m it cost to put on the fight, he got a sponsor, Woodstock, and a host city, Hamilton.
On the morning of the fight, he woke up $500,000 in the hole. It was only because he and his partner, Lisa, didn't yet own a house that it wasn't on the line. "The worst that could happen was that I was going to go bankrupt."
Corporate table sales and sponsorship had helped but it all hung on the pay-per-view sales from the event on television. Sky TV boss John Fellet was texting Higgins updates about how many people bought the fight every hour. And hour by hour, the number crept up. And up.
"During the course of the day the pay-per-view buys came in and then I saw I was going to break even. And then I knew I was going to make a profit. It was the biggest risk I'd ever taken and for it to come off was surreal." The 88,000 pay per view sales was a world per-capita record-making Higgins a reported $1.5m.
Higgins has now made his name taking big risks - and having them pay off-in partnership with former Kiwis league hard man Dean Lonergan.


Lonergan bought into Duco Events two years ago, after the pair met at the Cameron vs Tua fight. Higgins had wanted someone to sell corporate tables and knew Lonergan had passed them off at $17,000 a pop for Fight for Life. Lonergan, in a financial hole, was looking for regular income.
Between boxing, more Fights for Life and speaking events, it's been full on ever since. But the biggest event of their careers kicks off next weekend with the Dick Smith NRL Nines. It is an event that up to just a few months ago, many said would never happen. Getting all the NRL teams in one place, at one time, outside Australia? Impossible, the sporting world said. But Higgins and Lonergan say, like any event, it's just a matter of working out how to get there, point by point.
"Everyone has ideas," Higgins says, "The hard part is turning it into reality."
At first glance, the Duco duo seem an unlikely pairing. Walking to lunch at a cafe in Britomart mid-week, Lonergan is the true Kiwi bloke writ large - his former-league player shoulders clad in a check shirt, matched with jeans and sneakers. Big man, big personality. Higgins is his physical opposite, lean and dressed more like the other office workers around him, and some what more subdued.
Lonergan tends to be the face of the operation-he's usually the one you see being interviewed on television about boxing bouts or turning up in the papers to hype an event, the guy who would, according to the Weekend Herald, sell his own grandmother if there was publicity in it.
At lunch, Lonergan orders steak, Higgins a flat white. Lonergan says he has eaten all his meals, breakfast lunch and dinner, in restaurants for the past 10 to 15 years, although it's Nandos or Subway as often as fivestar establishments. Higgins doesn't eat much.
Lonergan says: "He's built like a Scandinavian racing snapper." A what? Higgins snorts. "It's a unique Lonergan-ism. It's weird."
People who know them say Higgins is a good control, keeping Lonergan in line when he gets carried away. Both men admit they argue and shout at each other from time to time, although it's settling down a bit now they've been in business together for two years. "We have our moments," Higgins says, "It's fair to say we are both strong-willed, both can be argumentative and have set ideas about things. But it always gets resolved one way or another."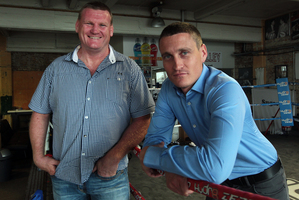 Higgins and Lonergan work at desks one behind the other on the third level of a building on Auckland's High St. Until tomorrow, when a male employee starts, they've been the only blokes in an office full of attractive young women. But they say there's been nothing deliberate about their hiring choices. "We just get the best people for the job," says Lonergan. "It's not a very good vote for the guys is it?"
As Lonergan sits on the couch in the middle of the room, one hand on his cellphone, he calls out to a staff member who is getting ready to leave to organise a press conference he's running at a pub downtown. Can she get him on a flight to Melbourne that night? It's already done. Where does he want to stay? The usual.
Duco general manager Madeline Erkkila says they're unlike anyone she's ever worked for before. "I love them but at the same time they drive me up the wall. They're very fast thinking and want things done very quickly. One minute you're in a meeting and the next they're saying 'tomorrow we're having a press conference, make it happen'."
The hard work of the Nines has been over for a while for Lonergan and Higgins. Lonergan says they employ people to do the things that they're not good at. "They work their arses off in the day-to-day job of getting things done, security, alcohol licenses, ticketing . . . that's work we're not good at."
Eden Park is nearly sold out, although Lonergan wants to make it clear there are still some seats left in the temporary seating erected on the sidelines. Auckland Council's Ateed has stumped up $12m for the five years the event runs for, and hotels are booking out. It's the first time the entire NRL competition will assemble outside Australia.
All the NRL teams will play, promised a minimum $100,000 to turn up. All their costs will be covered. In between the game coverage there will be vignettes of Auckland city spliced in, to keep the tourism bosses happy. It's taken two-and-a-half years to pull together and it wasn't until six months ago that Lonergan and Higgins really knew it was going to get off the ground.
Lonergan reckons he had to get about 500 people on side just in the NRL alone, from general managers to chief executives, coaches and players. "Financially, the Nines is the biggest even we do. You don't get change out of $7mor $7.5m."
Living the Duco life comes with its share of critics. Australian sports agent and promoter Khoder Nasser called Lonergan a low-life after Duco challenged his client Sonny Bill Williams to a fight for the New Zealand heavyweight titles. They offered A$1m prize money and threatened to turn up to his every training event until he agreed to a match-up with their champion Joseph Parker-or retired.
Sydney-based Nasser told the Herald on Sunday at the time: "Tell Dean Lonergan to get in line. Tell him to stick to his little enclave over there because we don't even know who he is over here. He doesn't even register. So tell him to get back down his burrow and not stick his head out too far."
American boxer Monte Barratt called Lonergan and Higgins "dumb and dumber" over Tua's match-up with Alexander Ustinov and accused them of throwing him to the wolves for a pay day. Higgins laughed off the comments at the time and both were still chortling about the dumb and dumber tag this week.
There was a high-profile spat with Gordon Ramsay, whom they filed a multimillion-dollar lawsuit against for failing to show up to a sold-out event raising money for sick Kiwi girl Matisse Reid.
There's also been criticism of Fight for Life, which Lonergan started and Duco now runs.
Radiohost Tony Veitch says people don't realise that the Fight for Life is not a charitable event any more and Duco doesn't need to give any money to charity. They give away a portion to a charity each time through things such as celebrity fundraising auctions at the event - but the public seems to think that's not enough.
Veitch had Lonergan on talkback for an hour and received a text asking why he didn't give away more money. "His response was 'name me anyone else who has raised $6m for charity through sporting events.' I doubt there'd be anyone else."
Though they copped a lot of heat over last year's dwarf boxing event, Lonergan says he tackled it by turning it into a human rights issue - asking which other sports people didn't want dwarves participating in. But property mogul Sir Robert Jones says it's the sideshow aspect of their promotions that means he won't deal with Duco again.
They fell out over Francois Botha, whom Duco brought back to fight Joseph Parker after his clash with Sonny Bill Williams. Jones says it's bad form to allow a fight that isn't healthy for a boxer. "I said to them that Botha's a last-century fighter, with his style of fight he'll end up punch drunk. But they couldn't care less if there's a quid in it."
Jones says the success of the Nines is a sign of social decay. "It's an alarming thing to me that there are 45,000 halfwits that will watch rugby league. It's the most inane game."
But Duco's done well out of it, he concedes. "They'll be creaming it this time, it will make them more willing to take risks. They'll take a risk of $10m if they think there's $1m in it, but you don't take that risk if you're prudent."
Jones says he misses Higgins' phone calls-and the nostalgia for the relationship is mutual. Higgins and Lonergan say they would like to resume their connection."We really like Bob. We care about him. I've rung him a few times at the office and he's never there and once he hung up on me," Higgins says.
Lonergan says some fall-out is to be expected. "You can't make an omelette without breaking an egg."
Higgins: "Are you saying that Bob is an egg?"
Lonergan: "No, but Khoder Nasser is."
Lonergan says he's got used to naysayers. People said 10 years ago the Fight for Life would never get up and going. "I don't take notice of it unless you've been in the middle rolling the dice how can you talk?"
The words "Duco" and"risk" seem to go hand in hand. But Lonergan and Higgins say they're not cavalier. They plan well in advance and never rely on one income stream. Things like corporate hospitality or sponsorship reduce the risk, so ticket sales are just the icing on the cake.
"If you're waiting for the last 200 ticket sales to make money you shouldn't be in this business." Higgins says he hasn't lost any sleep over the Nines. "Six years ago, if I had a deal worth $200,000 teetering I might go to bed worrying. Now a $500,000 deal doesn't enter my mind."
Lonergan has learned the hard way. He's done a lot the hard way. He clashed with Kangaroos forward Steve Roach in a game in Melbourne in 1991. He was convulsing and carried off the field. He returned to play 10 minutes later. The Kiwis won.
Then, eight years ago, he lost an estimated $1.6m promoting a circus that featured plate-spinning, X-Games bikers and trampolining, all accompanied by a 60-piece orchestra. Cirque Rocks was a disaster.
"I used to have sleepless nights when I was $1.6m in debt with no assets to pay it. But the second I worked out how to get out of it, no stress. I've been to a very dark place and know how to get out, so there's a sense of security."
They love the freedom of the job. Lonergan says if he wanted to host a celebrity male strip show, he could. If he decided to bring over an NBA team, it would be up to him.
Higgins still doesn't take his success for granted.
"When I was employed I remember Sunday was a day of dread. I was acutely aware I had to go back to work. I'm lucky to have fallen into something when I can be creative and sit back and have a sense of satisfaction after it's finished."
The two spent the end of this week in Melbourne and Sydney in meetings. Each packed one change of clothes into a carry-on bag and headed to the airport, preparing for meetings with Independent Liquor about events, and Foxtel and Fox Sport about the TV rights to an upcoming boxing bout.
If they're short a shirt, they'll buy one. If security takes their shaving foam, it's no big deal. All the while, they work on iPhones.
Lonergan says there's no feeling like pulling off a successful event, and next weekend's Nines will be a particularly satisfying roll of the dice.
"We'll stand in the middle of Eden Park before kick-off and look at all the screaming fans having fun and when the cheer goes up we'll be able to think we're responsible for that, that's pretty cool. And we can pay the bills."