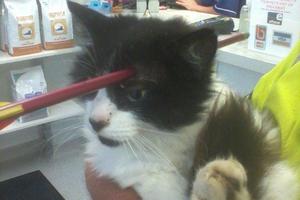 A teenager who shot a crossbow bolt through a cat's head will be having "a big joke'' with his mates after being granted diversion and permanent name suppression today, an animal advocacy group says.
The 18-year-old Wainuiomata man was charged with ill-treating an animal under the Animal Welfare Act after the incident last October.
The young man was granted diversion when he appeared before the Hutt Valley District Court today after completing court-ordered tasks.
He was granted name suppression after concerns were raised about threats made to him and his family over the internet.
Wellington Cats Protection League president Susan McNair said this sent the wrong message about animal cruelty.
"If you can get away with it, what does that say to the next person? It's like `I can do whatever I want. I don't have to pay anything, nobody's going to know it was me'.
It'll be a big joke between his mates.
"People should know who he is so they can let him know how disgusted they are in him.''
Ms McNair felt the outcome would have been different had it happened to a dog.
"You don't hear of people getting let off for doing that to a dog. I think that's terrible he got name suppression. He did the crime and he should stand up and be counted for it.''
Moomoo the cat was left with a bolt through his head after the incident.
He had to have surgery at Massey University Veterinary Teaching Hospital to remove it.
Donna Ferrari, Moomoo's owner, appealed to the public following the incident, handing out flyers in her neighbourhood asking whether anyone knew about what had happened to her 4-year-old pet.
At the teenager's last appearance, police said they were supportive of diversion.
- APNZ