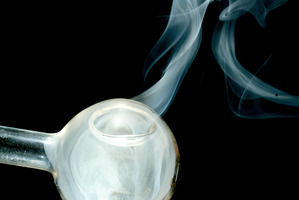 A mum jailed today for almost three years for raising two kids in a clandestine P lab was blasted by a judge as being an "abysmal failure" as a mother.
The 32-year-old drug addict let her family home in Linwood, Christchurch be used for the commercial-scale manufacture of methamphetamine.
She admitted child neglect charges by endangering the health of her son and daughter by having them grow up in such conditions between August and October in 2012.
A judge granted her permanent name suppression solely to protect the identity of her two children - now aged 13 and 15 - who are still at school. They've been taken in to Child, Youth and Family (CYF) care.
Her son saw her and others smoking meth at the house, which Judge Jane Farish said "was almost like a commercial kitchen set up for the manufacture of drugs".
The child told police the strong smell of chemicals being used to make the drugs would linger for days.
Both youngsters were found with skin rashes from exposure to the chemicals stored in the kitchen pantry alongside food being used by the kids. Methamphetamine residue was found in their hair.
Judge Farish said the woman encouraged and benefited from the drug manufacturing happening in her house, exposing her children to the risk of death by explosions in the volatile operation. She highlighted the recent case of a Northland man who died in a P-lab explosion while cooking the illegal drug.
The children now face short and long-term physical effects from the exposure to toxic chemicals, Judge Farish said.
They were both exhibiting emotional or behavioral problems and face increased risk to acute or chronic diseases, including cancer.
"You placed your children at serious risk of death and serious physical harm," Judge Farish told her as she sentenced her to two years, nine months imprisonment at Christchurch District Court.
The judge added that her actions were "completely self serving and selfish".
"You failed abysmally as a mother," she said. "You really have no idea of how to parent."
Defence counsel Mark Callaghan said the woman, who has one previous drug conviction, had been using meth at the time, but is "no longer a drug user as such" and has taken some steps to be rehabilitated.
Judge Jane Farish didn't accept that, however, saying: "You just don't stop using methamphetamine overnight. She's been using it since 2011."
Mr Callaghan said her "foray into criminal offending ... has had a devastating effect on her and her children".
She now has "very little contact with them".
The woman's co-accused, a 25-year-old drug addict and her partner at the time, was jailed for seven years, four months, with a minimum non-parole period of three years, four months, after admitting drugs charges, receiving a $2500 stolen car, assaulting his mother and intimidation.
Defence counsel Elizabeth Bulger said the man, who also has name suppression, is seeking treatment for his "significant" drug addiction and wants to become a good father.
"When Child, Youth and Family became aware of the accused's arrest, we worked with the family to secure safe care arrangements for the children,'' said CYF southern regional director Chris Harvey.
"We take their health concerns seriously. Children living in methamphetamine homes are at risk of inhaling, absorbing and ingesting harmful chemicals. They may also be injured by caustic materials used in the manufacture of the drug.''
- APNZ