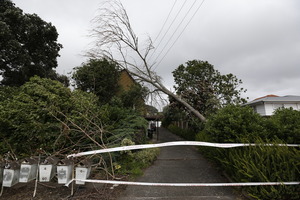 Insurance companies are expecting a rise in claims related to extreme weather as climate scientists predict the frequency and extremity of such events to continue.
Insurance Council chief executive Tim Grafton said more than $174 million of insured costs arose from weather-related events last year, making it one of the costliest years for weather related losses since the council started tracking them on in 1968 - the year of the Wahine disaster.
The cost last year was exceeded only by that of 2004 when, adjusted for inflation, there was $181 million worth of insured damage, he said.
The storm of September 11-12 wreaked the most havoc last year, causing considerable damage to expensive irrigators in Canterbury.
Mr Grafton said the collective body of scientific forecasting on climate change predicted New Zealand would face high levels of rainfall and stronger wind and storm-related events coming from the west of the country.
Despite last year's near record cost, it was well "within the capacity" of what insurance companies could afford to absorb, Mr Grafton said.
Niwa chief climate scientist Dr David Wratt said New Zealand's climate was influenced by year-to-year variations.
"Some years have more El Ninos, some have more La Ninas, just by chance, and that natural variability you get more extremes some years than others.
"As well as that, it's clear that the temperatures are rising because of climate change and also there's evidence around the world that's pointing to some increases in the frequency of very heavy rainfall for example in some parts of the world.
"What we expect in the future is to see the combination of those two things. We'll still have year-to-year variations, it's not like every year is going to be just a little bit hotter and a little bit wetter and a little bit more of this..."
Climate scientists predicted that as the century progressed, the frequency of heavy rainfall would increase and the number of drought events and the time spent in drought would also increase, Dr Wratt said.
"It's pretty clear that we'll see more heatwaves and more very hot days or hot nights."
The Insurance Council was established in 1895 and has 29 members who write the majority of New Zealand's general insurance business. Members currently protect approximately $0.55 trillion of New Zealanders' assets, and in 2012 paid $2.2 billion in claims.
Most expensive natural events of 2013
• $74.5 million, September 11-12, nationwide storm
• $46.2 million, April 19-22, Nelson/Bay of Plenty storm and floods
• $39.3 million, June 20-22, nationwide storm
• $10.2 million, October 14-16, nationwide storm
• $2.9 million, May 4-7, North Island floods
- APNZ