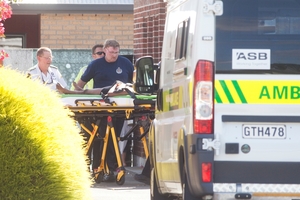 An 18-year-old woman who was found at the bottom of a swimming pool at a Hamilton motel has died in hospital.
Police said Fijian woman Deepika Rani Kumar, who was believed to be in New Zealand to attend the Parachute music festival, died at 10.40pm yesterday.
Ms Kumar was found at the bottom of a swimming pool at an Ulster St motel about 4pm on Saturday.
She was revived after 30 minutes by paramedics and taken to Waikato Hospital in a critical condition.
The matter has been referred to the coroner.
Senior Sergeant Dave Litton yesterday said the woman was on her own for 20 minutes before she was found at the bottom of the pool.
"We're unsure as to how long she's actually been underwater,'' he said.
Mr Litton said other guests at the motel gave the woman CPR until an ambulance arrived.
Paramedics and firefighters then worked for half an hour to revive the woman.
"They managed to get a pulse back.''
Mr Litton said she was taken to Waikato Hospital where she was yesterday in a critical condition in intensive care. She died about 10.40pm.
Mr Litton said there was no doubt what occurred was a tragedy, but perhaps her misfortune may help to save others from being caught out in similar predicaments.
"Without commenting on the specifics of this case, police would advise against people swimming alone and ask that you ascertain the depth of the water before you get in.
"If diving or jumping into a pool, lake or river, look before you leap and be mindful of your abilities and those of your group before entering the water.''
Police earlier said Ms Kumar had been in the country to attend the Parachute music festival as part of a church group.
The Anglican Archbishops of New Zealand and Polynesia released a statement on Ms Kumar's death this morning, saying it was a tragedy and calling for prayers.
Archbishop Philip Richardson said Ms Kumar had been in Wellington since December and was due to return to Fiji this week after attending the Parachute festival.
She had lived at St Christopher's Home in Suva, where she was cared for by Sisters of the Community of the Sacred Name.
Ms Kumar was enrolled at university in Fiji, where she was due to begin training as a teacher this year.
Archbishop Richardson said his prayers were with the Sisters in Suva.
"They have lost a young woman who they cared for as a child, and our prayers are with them as well as the sisters who live in Christchurch. The community here and in Fiji have lost a family member.''
The church also asked for prayers for St Mary's Parish in Whitby, which "became a spiritual home to Deepika while she was in Wellington''.
Ms Kumar had stayed with a parish family who "treated her as a daughter''.
"This is such a tragedy to hold alongside a life that was to offer so much. Our prayers are with those who have cared for Deepika and will now miss her,'' Archbishop Richardson said.
- APNZ