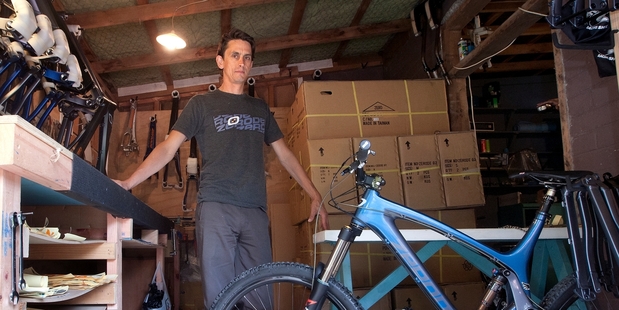 He's the Rotorua "one-man band" whose radical designs have caught the eye of the mountain-biking world.
Rob Metz started making his own mountain bikes about 20 years ago, when he couldn't buy what he wanted. Now, his company Zerode Bikes produces about 100 bikes a year, exporting 95 per cent of them.
What makes them unique is instead of having the gears on the back wheel, Zerode bikes have a gear box in the frame.
That takes weight off the back wheel, the suspension works better and allows riders to change gears even when not pedalling, Mr Metz said.
Born in Te Puke, Mr Metz studied mechanical engineering in Auckland and upon graduating had a "real job" for about two years.
Then he made the national downhill team and quit his job to attend the world champs after his boss made it clear taking time off would be a "career-limiting move".
After that, he focused his engineering skills on bikes - making himself a new one every few years.
"Everybody stopped me when I was going for a ride and would say 'where did you get that bike, where can I get one?' That planted the seed [for a business]."
About five years ago he took the plunge - starting Zerode with friend and fellow mountain biker James Dodds.
When "Dodzy" - who was killed in a hunting accident in 2012 - got too busy Mr Metz bought him out and took over the sole reins about three years ago.
As a one-man business, there are no expensive marketing campaigns for Zerode. However, the bikes speak for themselves - international mountain-biking media and enthusiasts have been eager to find out more about Zerode.
"Because it's a niche product, customers are quite passionate about their products, they're always hunting for what's around," he said. "At some point [Zerode] showed up on the radar. We got quite a lot of press ... they like the little guys doing something different."
Getting the word out within New Zealand had been easy, he said.
"We've had some top riders riding the bikes so everyone knew about them, everyone's heard good things about them."
The challenge was to recreate that model around the world, he said, although there were limits when it came to giving people bikes.
Mr Metz said it was tough at times as a "one-man band".
"I'm trying to push a radical product and get everyone around the world to accept it.
"They expect to see change every six months, it's hard to do that when you're doing small numbers."
Mr Metz said his bike parts were made in Taiwan then shipped to Rotorua where he assembled them in his home workshop. Usually he puts together the frame and gearbox, before shipping them off again - he will sometimes assemble a complete bike but they're more difficult to freight.
Mr Metz said he aimed to double production to 200 bikes a year, which he reckons would make Zerode a "great little business".
He's also working on several other projects and has developed prototypes for new designs.
That's the easy bit - finding the hundreds of thousands of dollars needed to take a new design to market was the problem, he said.
Despite the challenges of being the little guy in a big market, Mr Metz said he'd rather stay small and niche than go large and mainstream.
"For all its frustrations, it's quite neat as well."
For more information see www.zerodebikes.com.
For more articles from this region, go to Rotorua Daily Post