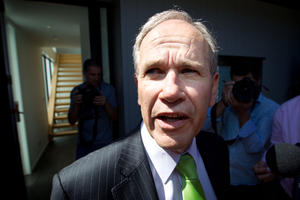 Auckland Mayor Len Brown will make his first public appearance of the year tomorrow at the opening of the $17.5 million transport interchange at Panmure.
Mr Brown has been out of public view since December 19 when councillors censured him and expressed their "profound disappointment and disapproval" at inappropriate behaviour and undeclared conflicts of interest.
He has used the Christmas holidays to spend time with his wife, Shan Inglis, and their three daughters after details of a two-year affair were made public, a report found he had not declared more than $39,000 in free hotel rooms and upgrades, and censure by councillors.
Ms Inglis is now also in the sights of Wellington man Graham McCready, who is considering laying a private prosecution against her over her husband's hotel freebies.
Mr McCready this week filed documents against Mr Brown, alleging Mr Brown "accepted a bribe for himself and his wife" by not disclosing free hotel rooms and upgrades from SkyCity.
Mr McCready said he would seek legal advice about whether there was enough evidence to lay charges against Ms Inglis.
A spokesman from the mayor's office said Mr Brown and his wife had no comment.
Mr Brown and his advisers have been working on several ways for the mayor to resume public duties, which could include a state of the nation-type address and resumption of his "mayor in the chair" chat sessions.
The mayor and Associate Transport Minister Michael Woodhouse will open the bus and train interchange, which the public have been invited to attend between 11am and 3pm.
Mr Brown's first formal engagement of the year was a powhiri for new council chief executive Stephen Town on Wednesday. Mr Town faces the task of rebuilding confidence among the 10,600 council staff.
A council executive yesterday said many staff were concerned about a lack of leadership and the effect the scandal was having on their work.
There are also concerns the mayoral office is too aloof from the rest of the council, although Mr Brown has agreed to forgo some executive powers and spend more time with councillors.
- additional reporting APNZ