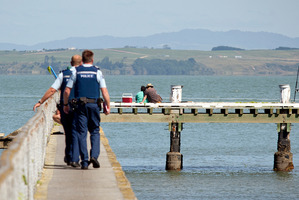 A search has resumed today for an Auckland man who went missing after jumping into the sea to retrieve his fishing rod in the Bay of Plenty yesterday.
Peato Samele Ilalio, 40, disappeared after he went into the sea from a jetty when a stingray pulled his fishing rod in at Kauri Point, north of Katikati, about 2pm, police said.
Senior Constable Lindsay Freeman said the man and his wife had been fishing from the end of the jetty.
"He's jumped off the wharf to retrieve his fishing rod and reel. He's got into difficulty in the channel because it's an outgoing tide," he said. "It was at that point when the current really starts to pick up with the outgoing tide," he said.
The Trustpower TECT rescue helicopter was called to search the area by air but was stood down after 40 minutes.
Local residents, the coastguard and surf lifesavers also spent the afternoon searching the murky water while police and volunteers conducted a shoreline search.
The police national dive squad arrived early yesterday evening to help.
The search was suspended late last night and resumed, with police divers and Waihi Beach coastguard, at 10am today.
The apparent tragedy would be the third water related death in the Western Bay of Plenty in as many days.
Palmerston North woman Catherine Hintz died after being found lying at the bottom of a Tauranga motel thermal pool on New Year's Eve. A Tauranga man died during a diving trip near Motiti Island on January 1. He has been named as Blair Kiddle, 42.
- APNZ