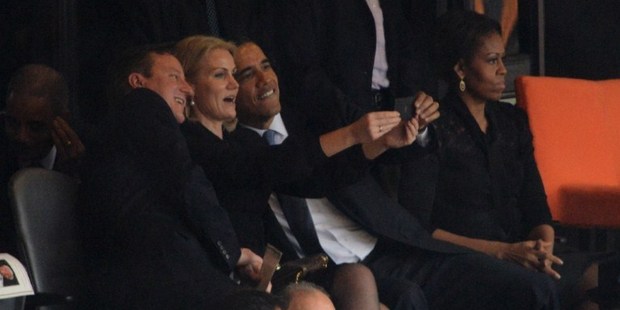 US President Barack Obama's speech at Nelson Mandela's memorial service has been widely praised - but his decision to take part in a 'selfie' with two other world leaders has not.
As the tens of thousands in the crowd at FNB stadium listened to tributes being made to the life and achievements of South Africa's former President who died last week at the age of 95, Mr Obama and his British counterpart David Cameron leaned in to a photo the Danish Prime Minister Helle Thorning-Schmidt was taking of herself.
And the world leaders' selfie moment was captured by an AFP photographer.
Outside of the selfie grouping, a clearly unimpressed Michelle Obama can be seen staring resolutely ahead.
President Obama's speech during the service received thunderous applause.
In it, he pointed out that "around the world today, men and women are still imprisoned for their political beliefs; and are still persecuted for what they look like, or how they worship, or who they love.''
His decision to shake the hand of Cuba's president Raul Castro underscored the warming of relations between the United States and its old foe.
But it's the selfie photo that's really inflamed passions on the internet - many taking to Twitter to question the appropriateness of taking such photos at a memorial service.
The hashtag #ObamaSelfie quickly started trending and the photo was soon being reported on by the world's media.
"There should be a moratorium on 'selfies' during memorials and funerals, no?'' tweeted @JeffryHalverson.
"'Is This The Most Important Selfie Of 2013?'' headlined the US-based social news website Buzzfeed, noting that Michelle Obama seemed "not amused'' by the impromptu photoshoot.
The act of taking selfies has become increasingly popular in recent years. The word itself was named this year's word of the year by Oxford Dictionaries.
A selfie is defined as "a photograph that one has taken of oneself, typically one taken with a smartphone or webcam and uploaded to a social media website''.
It originated in Australia with a young drunk first using the word to describe a self-portrait photograph more than a decade ago.
- nzherald.co.nz, AFP