Friends of the four dead people say it was a miracle the collision over Auckland killed no one else.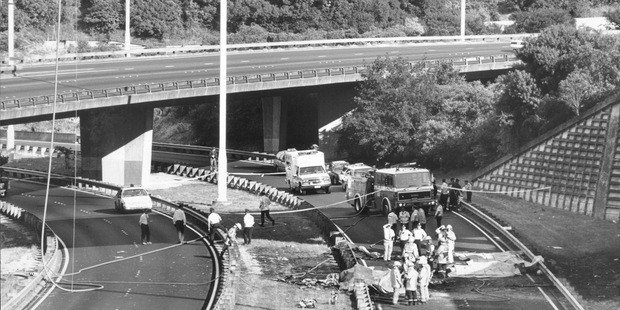 Friday, November 26. 1993, 5.34pm. It was bright and sunny and the Eagle police helicopter had been flying missions all day. The early crew finished in the afternoon and their three colleagues on the late shift took over to keep watch over Auckland. But in a moment, everything changed.
Eagle was hovering over the Southern Motorway after reports of a car crash when it and a traffic spotting plane collided, hundreds of metres above the intersection of Queen St and Karangahape Rd.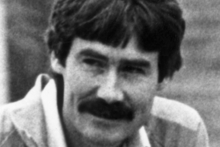 Many Aucklanders watched in horror - from the street, from cars and from high-rise office towers - as burning wreckage from both aircraft crashed to the ground. The main body of Eagle landed on the Northwestern motorway while its main rotor landed in Grafton Cemetery. Other debris was scattered over a wide area including on the roof of a church in Upper Queen St.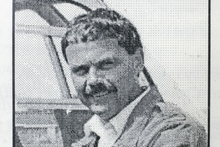 Eagle pilot Ross Harvey, 41, Sergeant Lindsay "Lou" Grant, 39, Constable Alastair Sampson, 27, and the plane's pilot, Allan Connors, 28, were all killed but there were no fatalities or serious injuries on the ground, the debris somehow missing hundreds of cars on the roads below.
Constable Mark Gray had just finished work and he and workmate Brian Pilkington headed to a Parnell bar, close to Eagle's base at Mechanics Bay, for an after-work drink.
When they arrived details of a breaking news story were flashed on television. "There was a whole lot of smoke, from what I could see on the TV, and I asked someone what it was and he said, 'The police helicopter has crashed' and I thought, 'God I hope that's not true'."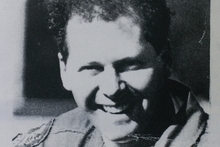 He said to Mr Pilkington: "I think the boys might have been in a crash," and they hurried back to base. When they walked through the doors they found "pandemonium".
"At that stage all we knew was there had been a collision with another aircraft over the cental city area and it took many, many hours before we had confirmation that anyone had perished."
The news left him and other team members numb. "We lost our Sergeant [Lou Grant] and Al Sampson was a good mate of mine, we used to play golf most weeks, and these young guys that come on the unit ...
"You get quite close to them because you train them up from scratch ... a tight relationship develops because it's such a closed environment."
The next few hours were frantic.
"All of a sudden our whole world caved in. There were other things we needed to be aware of as well. There were partners and wives and they started arriving. It was tense, it was emotional."
Soon the reality of attending four funerals over the next week hit home.
"We knew Allan Connors as well because he worked on our helicopter and was working as an aircraft engineer at a company we leased our helicopter from down in Ardmore."
Returning to work was "real bad".
"A whole lot of things go through your mind including a heightened sense of danger. In the past we'd flown many years and had no incident - then something like that happens and you lose half your unit and a damn good pilot. All of sudden it's like we have to be even more careful than we were before."
Mr Gray said there were no immediate answers. "There's always lots of questions that need to be answered but it's the nature of civil aviation investigations that they need to be thorough ... It took a while but the facts were not in dispute. Our aircraft hit another aircraft. Two aircraft in the same airspace they're going to have a collision."
A Transport Accident Investigation Commission report later said neither pilot saw each other in time to take action and both were operating in uncontrolled airspace.
A single advisory radio frequency was eventually established for aircraft in the uncontrolled airspace.
The "heightened" sense of danger remained for some time later.
"It took a couple of weeks for me flying around until I could actually concentrate on the job at hand and look at the ground instead of having my eyes peeled on the sky around us and the horizon."
He said there was alarm every time the instruments picked up the transponder from another aircraft.
Each crew member was given the option of leaving the unit but Mr Gray told the Herald it never seriously crossed his mind. "What was left of the unit stayed on. We sat around and talked about it and I said, 'I've got no reason to leave', after one freak accident in four years. And we basically haven't had one in 20 years."
Former Constable Kelvin Hill was supposed to be working on the shift that would have taken over later that night. He remembers the day vividly despite it being 20 years ago.
"It doesn't seem [like that long]. It's still pretty raw, especially at this time of year when it all comes back. Around mid-to-late-November I start to think of the guys."
Mr Hill had been at home getting ready for work and was planning to go in early to exercise in the makeshift gym at the base.
"It was a beautiful Auckland day with no cloud in the sky." He remembered a news flash during a live cricket test describing a mid-air crash between a helicopter and a plane.
He figured it was either Eagle or the Westpac rescue chopper due to the frequency they flew over the city.
"I immediately thought, 'My God, I hope it's not us'. He headed straight for work, driving down Dominion Rd, figuring if he saw Eagle he would know it was Westpac that had crashed.
"The further I got down Dominion Rd I saw the familiar colours of Westpac and thought it had to be Eagle. It was just a gut feeling [but] I didn't know until I got to the office."
He met Mr Gray, who'd arrived minutes earlier, at the base. No one could believe what had happened.
"I was trying to figure out who was actually flying . It took a long time to comprehend [the loss]."
One of the men's wives had been told of the disaster by a friend who saw it from her office in a downtown high-rise. "She was in a very bad way so we comforted her for a while."
Over the next hour or so they received confirmation of the fatalities. "It was a miracle it was contained to the guys in the air. To this day I can't work out - although it was already God-awful - how it wasn't worse."
Like Mr Gray, Mr Hill was determined to fly again. "We didn't fly on the Monday but on the Tuesday all the surviving members of the unit arrived at the base. I remember a line of police along the fence line and we walked to our machine and the police were all there - it was very, very moving - and we got in the machine and had a fly around Auckland.
"We just had to prove we could do it, that we were down but not beaten. The guys rostered that day continued working.
"To see the police turn up along the fence was fantastic and gave us encouragement to keep going."
Fatal air collision remembered
The 20th anniversary of the fatal collision between the police Eagle helicopter and a traffic spotting plane will be marked by a ceremony at the plaque honouring the four victims at Mechanics Bay at 4pm today.
Relatives and former co-workers of the dead men will be able to speak in a ceremony likely to last about 30 minutes.
Auckland City Police district operations manager Inspector Peter Gibson said the accident had an impact on staff past and present. "No one is under any doubt of the sacrifice these men and the other police officers who have died on duty gave to the community."
Mr Gibson said there was a special mention of them at service in September dedicated to the 47 New Zealand officers who were killed or died in accidents on the job since 1890.