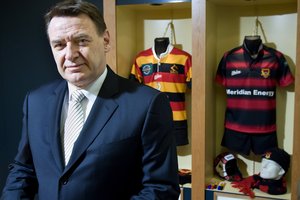 The former boss of a Canterbury clothing manufacturer that kitted out some of our greatest sporting heroes has been jailed for six years for his role in a multi-million dollar fraud.
Ken Anderson, 66, was sentenced today by Judge Jane Farish at the Christchurch District Court.
Anderson was the sole director and ultimate shareholder of century-old Lane Walker Rudkin (LWR) when it went into receivership in April 2009.
After a 21-month investigation, the Serious Fraud Office (SFO) laid 61 charges against him in 2011 for allegedly fabricating financial documents to gain loans from Westpac.
As a result of the fraud, losses of $70 million were suffered.
The SFO also laid 21 charges against him for allegedly using fake documents to gain funds with a letter of credit facility from Westpac.
Last month Anderson pleaded guilty to three representative charges.
The charges state that between November 2006 and March 2009 with intent to obtain a pecuniary advantage, dishonestly and without claim of right Anderson used or attempted to use a document to obtain funds from Westpac, and for credit transactions between another company he was connected with.
A co-accused, with name suppression, also admitted a charge of using false documentation to obtain funds under a letter of credit facility, and was fined $2000.
SFO director Julie Read recognised the high level of public interest in this case.
"We feel for the staff who contributed to the once successful LWR brand and who were then victims of its collapse due to the activities of the defendants.
"The SFO hope this result will help deter similar crimes and maintain the integrity and credibility of New Zealand businesses,'' she said.
Anderson took over Lane Walker Rudkin in 2001 with then-wife Patricia, who, according to the Companies Office, officially ended her involvement with LWR in 2006.
Lane Walker Rudkin was one of Canterbury's most famous brands and biggest employers, with some 4000 staff employed at its peak.
In its 105-year history it was said to have provided jobs for around 100,000 people, mainly Cantabrians, and was associated with brands such as Canterbury, Jockey and adidas.
It kitted out many famous New Zealand sporting heroes, including the 1924 Invincible All Blacks rugby team, middle distance champion runners Peter Snell and John Walker, and provided Sir Edmund Hillary's boots as he became the first person to climb Mt Everest in 1953.
- APNZ