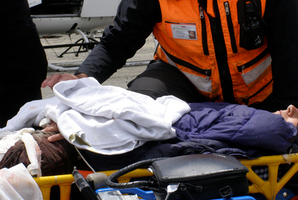 Wanja Drees was on the lower reaches of Mt Ruapehu with a badly broken leg and no mobile phone when he decided he would have to try and make his way out himself.
The 19-year-old from Boenen, Germany, had a weekend off from working at a Matamata dairy farm and decided to spend it mountainbiking around Taupo and walking the Tongariro Crossing.
Wanja told the Herald he "had nothing to do on Sunday" so he decided to go hiking up the Te Heuheu Valley on the northwestern slopes of the mountain, alone.
He was an experienced hiker and fit but said the only person who knew what he was doing was someone he had met at an information centre in National Park.
Dressed in shorts, a shirt and sandshoes with a backpack containing a bottle of water, his mobile phone, he planned to walk around the rocky lower reaches of the mountain.
He was walking along a gravel path when he lost his footing and slipped about 50 metres down the mountain before his left leg collided with a small boulder.
He immediately realized it was broken.
He slid a further 50 metres down the slope where he came across another rock that he used to stop his descent
"I was thinking "I have to stop, I have to stop" but then I realized my leg was broken and I thought "sh##, what am I going to do"," he said from his Rotorua Hospital bed.
"No, it was not so cool," he said.
Wanja had lost his phone in his fall. He screamed for help a few times and tried to move but the pain was "very intense"
"I would say a 10 out of 10."
"But after about 20 minutes or so I decided there wasn't any help for me and I was alone and I lost my mobile phone on the way down and I can't get any help ."
"I took the band (laces) from my shoes and fixed my broken leg together with my right leg. I lay there for another 20 minutes or so and thought about my situation and what is the next step for me "
Wanja saw a lift station about 300 metres downhill. With his legs laced together he made a slow and painful descent down the mountain using his elbows to control his speed.
He saw two people, a man with his daughter, who eventually heard his screams and ran towards him.
A badly-bleeding Wanja said the pair, a father and daughter from National Park, came to his aid wrapping him in a jacket, giving him some water and a muesli bar before calling for help.
With the help of the Ruapehu Alpine Rescue Organistion members and the Greenlea Rescue helicopter, he was airlifted to Rotorua Hospital where he is nursing his badly broken left leg.
"I want to really, really thank them in some way for helping me," he said.
"I was very, very lucky. It could have been a lot different..I could have gone on a bit longer but I don't know how much longer."
Wanja said he would likely be off work for at least three months and is unsure how this will affect his plans to stay in New Zealand until early next year.
He also didn't know if he would get to travel to Canada to work on a farm there as he had planned.
What is for certain is he won't be going hiking on mountains alone again.
"No, definitely not," he said.
"I don't want to go up there again by myself, I just don't want to do it again."
- APNZ