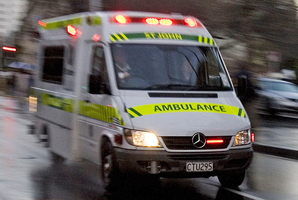 A domino-like car pile-up in Wellington this morning left a man with two broken legs when he was crushed between two vehicles.
A bus attempting a three-point-turn near the Z service station on Churchill Drive in Crofton Downs, got stuck with its rear wheels off the ground, blocking the road.
A car crashed into the bus, then bounced off an into another vehicle on the service station forecourt, which hit a further vehicle.
At the same time a forecourt attendant had come out to assist with directing traffic and was hit by one of the vehicles, said acting Inspector Guy Callahan.
"It's like a bizarre sequence of events."
The accident happened shortly before 12pm.
Wellington Free Ambulance said the 32-year-old man had serious but not life-threatening injuries.
He was taken to Wellington Hospital.
- APNZ