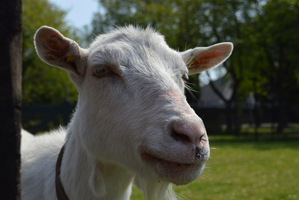 Tauranga SPCA has agreed to withdraw the charges filed against two Katikati men accused of the inhumane shooting of a goat.
Carl Ian Williams and Stephen Frederick Bowman faced joint charges of a breach of the Animal Welfare Act when they appeared in Tauranga District Court today.
The charge relates to the alleged shooting of a juvenile goat which was the SPCA says was videotaped being thrown into the air and shot in 2011.
Prosecutor Hayley Sheridan told Judge Paul Geoghegan that after further discussions with Tauranga SPCA this morning the organisation has agreed to withdraw the charges if the two men pay a large donation to the charity.
Tauranga SPCA would also issue a written warning to the pair when will remain on their records.
Judge Geoghegan further remanded the defendants on bail and the matter again be called in Tauranga District Court on November 25.
If the two men complete all the appropriate paperwork and pay the donation the charges will be formally withdrawn on that date, with their attendance excused, Ms Sheridan said.
Last month Williams was sentenced to 22 weeks' community detention and fined $3500 after admitting running down and chasing a black swan in his jet boat and causing distress to six others.
The swan offences occurred Boxing Day last year on Tauranga Harbour.
Prior to sentencing, Williams had paid $6596 in reparation to the SPCA and also donated $500 to a local wildlife sanctuary.
For more articles from this region, go to Bay of Plenty Times