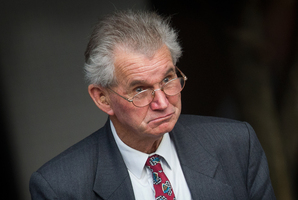 An elderly Mamaku man offered diversion on a firearms charge has been under "enormous strain" for many months, according to his lawyer.
Max Winders, 77, had previously denied a charge of leaving a loaded firearm in circumstances as to endanger the life of others, namely under a bed with a bullet in its chamber, between March 28 and April 4 this year.
A defended hearing was scheduled to take place in the Rotorua District Court today.
Instead police prosecutor Sergeant Steve Coleman told the court police had offered Winders diversion, which meant he would avoid a criminal conviction.
On that basis Winders' vacated his earlier not guilty plea and replaced it with an intimated guilty plea.
Winders' lawyer, Murray McKechnie, said his client had already completed a firearms safety programme through the New Zealand Mountain Safety Council, which was his main diversion condition.
Judge Maree Mackenzie remanded Winders at large until December 18, to complete his remaining diversion conditions. His appearance on that day has been excused.
Outside court, Mr McKechnie told the Rotorua Daily Post the police had offered diversion because they knew the charge was not appropriate.
"It was the police who initiated the diversion proposal, many months after Mr Winders had been charged, brought before the court and placed under enormous strain - both he and his wife.
"He's never been in trouble with the authorities in his life and this has caused a great deal of upset."
For more articles from this region, go to Rotorua Daily Post