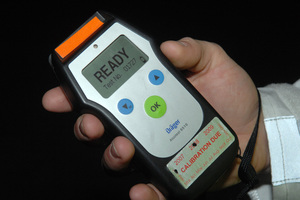 A Northland logging truck driver has admitted to driving over nearly double the legal alcohol limit.
Graeme Steven Emery, 52, of Raumanga, yesterday pleaded guilty in the Whangarei District Court to his third charge of driving with excess breach alcohol.
The police summary of facts said Emery was heading north on State Highway 1 at Mata about 5.15pm on September 21 when he was stopped by police for speeding.
The truck he was driving was piggy-backing its trailer.
He exhibited signs of recent alcohol intake and admitted to having a couple of drinks at a friend's place after finishing his run for the day.
It is routine for police to breath test all drivers stopped and Emery failed the roadside test.
He was taken to Whangarei police station where he was tested again and recorded a breath alcohol level of 700 micrograms of alcohol per litre of breath.
The legal limit for those drivers over 20 years old is 400mcg.
Because of the level, his driver's licence was immediately suspended for 28 days.
A friend came and collected the truck.
Judge David Harvey released Emery on bail to reappear for sentencing on January 9, 2014.
The judge ordered a pre-sentence and home detention reports.
For more articles from this region, go to Northern Advocate