Critically injured man flown to hospital after car hits motorcyclists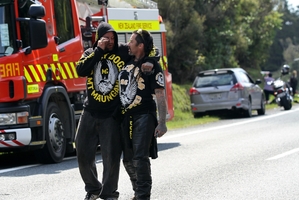 A motorcyclist died when a vehicle collided with a group of bikers near Rotorua yesterday afternoon. Police reportedly said a gang member died in the crash on State Highway 5 about 2.30pm.
A St John northern communications spokeswoman said one person was found dead at the scene.
A helicopter flew another person to Waikato Hospital in a critical condition and an ambulance took two others to hospital.
A fourth person was injured but refused to be taken to hospital.
Rotorua BayTrust Rescue Helicopter pilot Barry Vincent said the chopper landed on the highway to pick up the critically injured man. The man had multiple injuries.
"He wasn't in a very good way."
Vincent said he knew at least one car was involved and several motorbikes were parked when he arrived.
A silver Daewoo hatchback was at the scene with severe damage to at least two side doors.
Police said a vehicle travelling in the opposite direction collided with the group of motorcyclists about 5km east of the scenic Fitzgerald Glade.
Members of Mt Maunganui's Greasy Dogs motorcycle club were at the scene. The club has historical links to the Tribesmen Motorcycle Club and has clashed with the Filthy Few. About 3pm yesterday, a Tribesmen member told Facebook friends he would be getting to Auckland late because of a terrible accident.
Earlier, he had said he was looking forward to a "mean as, yellow 'n' gold day" as the group was believed to be preparing for a "poker run".
A poker run is a rally through five to seven checkpoints, with participants drawing a playing card at each one. The aim is to have the best poker hand at the end of the run.
Waikato Hospital spokeswoman Mary Anne Gill said the critically-injured 53-year-old man was having surgery last night.
Two other men, aged 29 and 60, were under assessment but believed to be stable.
Traffic was being diverted around the crash scene until about 8pm.