Former All Black captain David Kirk remembers some of the funniest and finest stories about his old Auckland teammate Peter Fatialofa, who passed away this week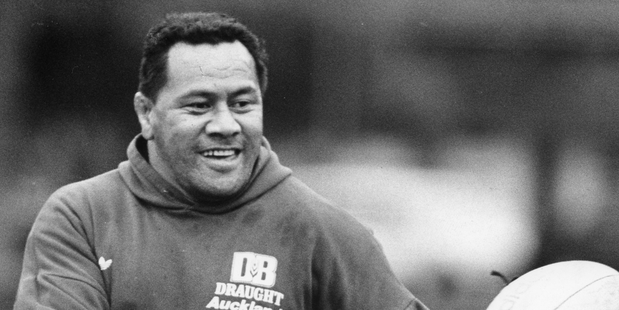 Memory is, by nature, unstructured and when I think of Peter Fatialofa the memories come tumbling into my mind in unordered fragments.
There's Fats in the Ponsonby jersey he was so proud to wear, taking a pass from the halfback off a short lineout in a club match. Within three metres he is at full speed, bull neck tucked into his hunched shoulders, cannonball head forward, legs pumping. Fats on the charge was a fearsome sight. The various components of the running man - arms, legs, a head on top - morphed into a spinning ball of muscle. I, for one, was happy to defer to a larger type when it came to getting in the way. On this day on Eden Park, as University gave as good as it got in a top of the table battle, Mata'afa Keenan had no hesitation. In true Pacific Island style, he didn't wait. He ran at Fats. Mass times velocity times two equals sickening smash. Both players bounced back and ended up splayed on the ground. Mata'afa was up and all good. Fats, too, was up quickly, but he put his hand on the shoulder he had led with and then he rolled his shoulder a couple of times. That was the only time I ever saw Fats register physical discomfort. Boy it felt good!
And then there's Fats roaring into the team motel on a September Friday night just before the 6pm deadline as we gathered to prepare for yet another Shield defence. He had been working all day and had dropped his workmate off before driving in the truck to the motel. He jumped out, beaming smile on his face, as usual, greeting us all with a typical, "How's it goin? I'm not late." Being on time meant a lot to Fats, it was a simple demonstration of living up to obligations and living up to obligations was what Peter Fatialofa did. On this Friday, Fats drove up in his piano moving truck, which had just had new signage painted on the side. "Peter Fatialofa, Paino Mover", it said. My children say I can be pedantic, perhaps I should have said nothing, but I thought he would want to know. I approached him, "Um, Fats," I said, "I'm not sure if you've noticed but 'Piano' is spelt wrong on the truck." "What?" he said, "No it's not. How do you spell it?" "The 'a' and the 'i' are round the wrong way." Fats hit his forehead with the base of his palm, "Aw, that dumb coconut that painted that!" and then, quick as a flash, "It's not bad though. People are going to remember it. I'll leave it. Good for business."
There's Fats as the Keeper of the Shield, so anointed by John Hart the very night we finally prised the log o' wood from a great Canterbury team's unforgiving grasp. He carried the shield everywhere, proud to have been chosen, but prouder still to be representing his teammates.
One misty autumn day in Oxford in 1988 I got a call from Peter Fatialofa. Fats was the captain of the Samoan touring team in Britain. Samoa was playing a match in Cardiff that week and Fats wanted to know if I could come down to see the team and take a training session. I took the train down, arriving at about midday and we had the training session in the afternoon. I stayed in the evening for dinner with the team and by then it was too late to get a train back. The Samoan rugby union had no money to pay for an extra room, so Fats said I would stay in his room. I expected twin beds, but there was only one bed and it was a single. Fats gestured to the bed and said, "That's yours". He slept on the floor. No blankets, no pillow, no complaints. What did sleeping on the floor matter to him if he had prepared his team better for the match ahead?
Fats went on long after I played with him and long after his days of sleeping on the floor in his own room were over. He became an icon of the emergence of Samoan rugby at Test level. Today, somewhere between a sliver and a wedge of doubt creeps into the heart of every major rugby-playing nation in the world when the little ball with "Samoa" written on it is drawn out of the urn to place Samoa in the same pool at the Rugby World Cup. Peter Schuster, Bryan Williams, Pat Lam and many others did that. But Fats was the icon. He was there at the birth and he was representative of everything that is special about Pacific Island, particularly Samoan, rugby and people: powerful, direct, humble, respectful, proud, warm and in love with a laugh, genuinely witty. Aristotle said wit is educated insolence. That cap does not fit Fats. His wit drew on a well of human understanding gathered in the village and at the clubrooms, in the workplace and in the family home. His was a wit that was kind, a wit that sought not to expose but to embrace.
I can think of no greater compliment to give Peter - and I know he would see it that way - but to say that I wish I had had the opportunity to introduce my own children to him and for them to spend time in his company. To spend time with Peter Fatialofa was to be given a big dose of the best antidote to the tide of self-promotion and brittle celebrity worship that continues to rise like dry rot.
Virtually nothing good comes from the early death of a man with so much more to give but if there is just one young person, particularly a Pacific Island young person, who needs to find a reason to make the commitment to be the best sports, family and community man or woman they can be, Peter Fatialofa gives you that reason. If you do that you will be honouring Peter's life just as he would have wished.
• Peter Fatialofa played 72 games for Auckland and 34 tests for Manu Samoa. David Kirk was his Auckland teammate and captained the All Blacks to their first Rugby World Cup win in 1987.