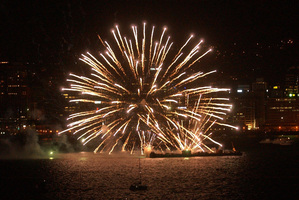 Fireworks sales are up and more families are buying special packs to enjoy in the backyard. Many others, however, are doing away with the fuss and heading to local public fireworks displays.
Pyro Company Fireworks sells about 280 different kinds of fireworks in its 480 outlets across the country.
Owner and managing director Len Julian said imports were up about 30 per cent - compared with last year's sales - and family packs were becoming increasingly popular.
"We're seeing a lot of increase in the family assortments. I think lots of parents are choosing to spend time with their kids this year," he said.
"We've got a lot of mid-range products that are selling fast - from $20 packs to the $80 to $100 mark. Fireworks offer a unique night for the whole family because you're not usually outside in the middle of the night doing something like this."
Mr Julian said some of the favourite single items this year included Roman Candles and the Red Dwarf - a four-shot, loud firework that finishes with a star burst. The humble sparkler was also a big seller.
Today is the last day you can buy fireworks and many pop-up stores have appeared on the side of roads.
Bad Boy Fireworks, which has hundreds of outlets in New Zealand, also reported mid-range packs being popular this year.
The company's packs retail from $10 to as high as $300 and manager James York said: "It's been a pretty good season so far across the board."
Bad Boy is again a sponsor of this year's Waitakere Fireworks public display, which attracts thousands to the Trusts Stadium, in Henderson, West Auckland.
Safety tips
1. Keep a bucket of water or hose nearby in case of an emergency.
2. Never attempt to relight a firework that has not gone off.
3. Keep pets inside. If in a rural area, let neighbours with animals know you plan to have a fireworks night.
4. Always light fireworks away from buildings, trees and bush and never aim at people.
5. Never take fireworks apart or attempt to mix the powder inside with other fireworks.
6. If you have pets close all windows, curtains, cat flaps, interior and exterior doors and pop a cover over your bird's cage to block out as much light and sound as possible.
7. Try to stay at home with your pets, or leave a TV or radio on to help muffle the sound of the fireworks.