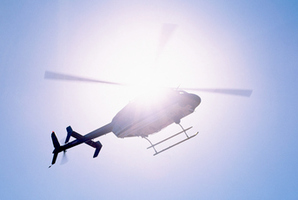 A pilot who was seriously injured when his helicopter clipped another chopper and crashed in Mt Aspiring National Park yesterday was very experienced, his company's director says.
The helicopter crashed near the head of the Shotover River in an area known as Lochnagar just after 3pm with seven people on board.
The pilot suffered serious head injuries, while his passengers and those on the second helicopter escaped with only minor injuries.
Both choppers belonged to scenic flight operator Helicopter Line.
Company director Mark Quickfall said the pilot was today in a stable condition in Dunedin Hospital after being transferred there from Lakes District Hospital last night.
The extent of his injuries was not known at this stage.
"Certainly out of all the people on board the helicopters he bore the brunt of it,'' Mr Quickfall said.
Helicopter Line staff had travelled to Dunedin with the man's family to be with him.
Mr Quickfall said the pilot had been with the company for several years.
"He's an experienced pilot, both with fixed wing flying in the Mt Cook region and in later years helicopters. So he's certainly not a new aviator. Both pilots were very experienced.''
It was still not clear how the two helicopters had made contact, Mr Quickfall said.
"One of the helicopters had already landed and the second machine came into land and things didn't go to plan.
"Helicopters have the ability to [land close to one another] so we really don't know whether it was a wind gust or what. We make snow landings around the South Island daily with our fleet of 20-plus helicopters so it's not something that's new to us.''
Rescue Coordination Centre spokeswoman Sarah Brazil said yesterday an emergency locator beacon was activated by one of the helicopters and a mayday call was received about 3.15pm.
Four helicopters were sent to the scene, including one carrying paramedics and crash rescue medics.
Eleven people with various minor injuries were brought to Queenstown Airport about 5.15pm.
The Civil Aviation Authority and the Transport Accident Investigation Commission (TAIC) had been informed of the incident.
Two TAIC investigators were travelling to Queenstown then the accident site today to gather background information on the flight, interview witnesses, and inspect the wreckage before any recovery work began.
Helicopter Line is also carrying out an internal investigation.
- APNZ