Hop on the bus at Swanson, Auckland Transport tells passengers.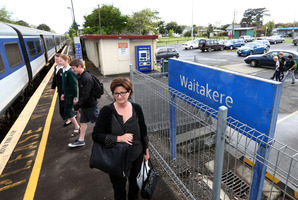 A community on the edge of Auckland will be further off the beaten track when its rail services are cancelled.
The tiny Waitakere village station has been earmarked by Auckland Transport for closure with the arrival of electric trains, which cannot reach its terminus without costly alterations to tracks and tunnels.
Swanson will become the western line's final destination. Auckland Transport spokesman Wally Thomas said there had been plans to run a diesel train between Swanson and Waitakere, but ending rail services to Waitakere would save ratepayers $20.8 million over 25 years and add only two minutes to each passenger's journey.
Waitakere commuters will make the journey to Swanson by bus, Thomas said. "The large injection of ratepayer funding needed to retain a diesel service along the short stretch of track between Waitakere and Swanson could not be justified when a more flexible and accessible bus service could be operated for significantly less."
Passenger surveys had shown an average of 100 people boarded trains at Waitakere each day, but demand was not expected to grow and many rural Waitakere residents already travelled to Swanson to catch the train.
"At the moment rail is not a realistic option for serving areas further north, such as Kumeu/Huapai, because the rail distance to Britomart is much greater - 41km compared to about 28km by road. The travel time by train would be about 70 minutes, not including the transfer time at Swanson, whereas bus travel time in the morning peak is 50 to 55 minutes."
A planned Northwestern Motorway busway would speed up road travel, and there were no plans under the Auckland Plan for urban growth in Waitakere. Carparking at Swanson would be expanded, with an agreement in principle from Kiwirail to provide another 100 parks near the station by the middle of next year, Thomas said.
Waitakere residents told the Herald on Sunday they were disappointed at the decision as previous councils had invested large sums of money to make the station viable.
Auckland Transport spokesman Mark Hannan said Waitakere's carpark was extended at a cost of $112,000 in 2011. The 55 spaces, extended as part of a project inherited from the Waitakere City Council, would still be used when the bus service is introduced.
Dream goes up in smoke
Anne Wilson thought she was living the dream when she moved to Waitakere village in January.
After decades of raising children, the 54-year-old credit manager and her husband, Murray, had a country home only a short stroll from a train to the city. Part of their reason to live there was to avoid the motorway.
Their joy was short-lived - four months later Auckland Transport announced rail services to the settlement would cease by the end of 2015. Wilson says:
"It's just insane, when you look at development in Kumeu, and the numbers that already use the train. And the [station] carpark has just been developed, it was metal and now it's been sealed. People are p***ed off hugely."