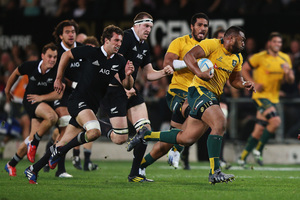 Rugby fans in El Salvador and Cyprus were part of a 12,000 audience who tuned in on YouTube to see live coverage of the All Blacks' final test with the Wallabies.
Viewers in 45 countries took in the streaming of the Dunedin test and computer spectators had increased to 22,000 on demand late this week.
The audience was spread across nations without rights to screen the international and figures showed the US and Italy were the two biggest markets.
"Frankly we didn't realise we could do it until very late in the piece," NZRU chief executive Steve Tew said, "so there was a limited amount of publicity for it ... It was a real stab in the dark. Personally I thought there might have been [only] hundreds watching it."
An NZRU advisory note went out on social platforms and other outlets only the night before the test but the key thing for the NZRU was that the concept worked.
The technology worked well and there were people with administrative access who could watch the coverage, in spite of the geo-blocking, through feeds in New Zealand.
The most excited people seemed to be expats who couldn't watch other All Black tests live this season.
The NZRU didn't gain any revenue from the feed but that was something to be looked at in the future.
The Dunedin test fell outside broadcasting schedules and was a chance to test a different way of delivering rugby to fans in far-flung areas of the world.