David Fisher and photographer Mark Mitchell travelled the country looking for the greatest Kiwi yarns. Follow their journey in this series.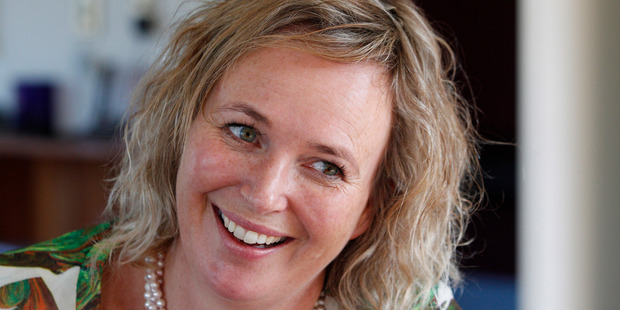 Today, a Hawkes Bay mother tells how a community role helped to shape her life
Day 16: Hastings
Anna Lorck remembers the teasing at her journalism course.
"Miss Waipukurau", her classmates called her, with laughter chasing her all the way back to Hawkes Bay where she tended to her official duties.
It wasn't quite right, of course, because she wasn't actually a beauty queen. "I certainly didn't have to parade in a bathing suit."
Strictly speaking, Anna was actually the 1989 Central Hawkes Bay Chamber of Commerce Show Queen. And, she'll tell you, that's a very different type of event.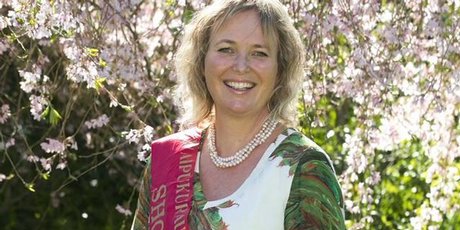 Here's the point to the story before we get to the ball in the Waipawa Town Hall, with the live band and proud parents watching the sash being placed on 17-year-old Anna.
Now 42 and a working mother to five girls, she says: "I hope it shows them you should always put yourself forward for opportunities that come up. When it comes to leadership and being part of your community and taking a bit more responsibility, it doesn't matter what age you are, you can make a difference."
So then, back to 1989.
Anna thought she was doing well in seventh form English until she was blindsided by being described as "mediocre" in front of her class.
She went home and declared to her parents: "I'm never going back there." She was told: "You're not leaving school without a job." So she got one. "I walked down to that newspaper and I walked in and said, 'I want a job'. And they gave me a job."
That was the end of school.
Anna was taking over from Laura Franklin (now managing editor of APN's regional papers), who was eight months pregnant and needing someone to take over quickly. "She gave me the quickest rundown on journalism ever and four weeks later I was on my own."
Life became that of a cub reporter on a community paper - wedding anniversary stories, council meetings, health board happenings, school fetes, local business success. It was chronicling the life of a small town, feeling for the pulse of Waipukurau life.
That pulse always beat faster for the Show Queen pageant.
This was a big deal, not only for Waipukurau but for its Australian sister city Leeton, population 6500 and proudly "Australia's Rice Capital".
In 1970, the two towns struck up a sister-city relationship, the same year Leeton had its first Rice Festival, and would send their Rice Queen and Show Queen pageant winners across the Tasman on goodwill visits.
It was a mayor's wife who nominated Anna as Miss Expressions, the name of the fashion boutique she ran.
"Being the only reporter, I used to go and cover the council meetings. I would interview the mayor all the time," Anna recalls.
She'd moved out of home, too, and was flatting with a journalist from the regional paper who had been a judge for an earlier pageant.
"I had a bit of an edge over the other contestants. I was the local reporter and knew the most about what was going on in the community," says Anna.
The day of the Show Queen ball, the contestants gathered for lunch, where they were quizzed on local issues.
"Of course, being a community news reporter I knew a lot of what was going on in the community. They asked me in the judging of it 'what is the biggest issue facing rural industry' and they couldn't stop me talking.
"What other 17-year-old was burning the midnight oil writing about the district health board about to close our hospital?"
Then there was a cocktail party and, finally, the big night at the Waipaua Town Hall.
There was a band playing, flowers around the walls and ball gowns with all the pink and puff that provincial 1989 could muster. "We were all paraded up on stage. You had all your friends there. They put you all up on the stage. There might have been the world peace question.
"And then they called out my name." Thinking back, Anna thinks she "did do a bit of a squeal". She also remembers looking out to parents Willie and Viv Peacock in the audience, beaming with pride as the "Show Queen" sash was placed around her shoulder and neck.
"I had my first dance with Dad. I do remember Dad being very proud."
The next day people really did stop her in the street, which was nice.
She shudders a little when she recalls her boss ran her picture as the paper's "own page three girl". "That was a bit rank."
That was November. Poised at the edge of life, she visited Leeton in the summer. "In Leeton, they grow a lot of rice. A lot of rice." There was a rice factory, and a rice parade and floats, on which she and the Rice Queen waved to the crowds lining the small town, about 600km west of Sydney.
She then left town for Auckland, her "heart set on journalism school".
Well, wasn't there some trouble about that? A letter and strong words of disappointment about her official duties as Show Queen. She surely didn't recall the contract saying she had to stay in Waipukurau.
"I do remember thinking who in their right mind would want to live in Central Hawkes Bay at a time that was central to framing your life."
She returned for the formal visit of the Rice Queen - mocking cries of "Miss Waipukurau" ringing in her ears from classmates at journalism school. "The Rice Queen was lovely ... She was beautiful. I'm sure looks counted a lot more in Leeton than they did in Central Hawkes Bay."
And then it was back to journalism school for most of her remaining reign as Show Queen.
"By the time I came back from Auckland, I felt far more worldly. I'd had jibes from the other journalism students about Miss Waipukurau. I came back and said the days of the Show Queen pageants are over.
"Really, it's an ambassador role. It shouldn't just be for girls."
And that was about when Waipukurau stopped having a Show Queen. There was an ambassador role for a few years - Leeton was making the same changes - and it limped along before the sister-city relationship fizzled out in 1998. "I like to think I changed the game."
Time moved on. Anna returned to Hawkes Bay to work on regional newspapers and radio for 15 years then moved to public relations. She set up business with Damon Harvey to compete against national PR firms for the Hawkes Bay market. Together they raise a family of five Lorck and Harvey girls (aged 4, 8, 12, 15 and 17) while running Attn! Marketing PR, a boisterous and combative cheerleader for Hawkes Bay businesses and issues.
"I've gone from Show Queen to PR Queen," she says delightedly. "I take an active role in finding out what's going on. I love shaping the community and I always will."
The older girls found the sash years ago, when they were young. It came out of the cupboard and they sashayed about the house before it was lost for another decade.
She found it again, just a few months ago. The eldest girl is the same age Anna was when she won. "They laugh and think it's old-fashioned."
It carries its own message, though, which was much of what the Show Queen competition was about all those years ago.
"I think what it does show the girls is that opportunities come when you put yourself forward. You must always take advantage of everything that comes your way.
"It might have been just a little pageant, but it did a lot for my self-confidence, as did the journalism jibes. It's good when you are both rewarded, challenged and change things - there's no mediocrity in that.
"Not everyone can say they have been Miss Waipukurau."
Your story
Do you have a great yarn or captivating tale to share? Fill in the online form here, email your stories, photos or video to nzhgreatest@nzherald.co.nz or share your story on social media using the hashtag #nzhgreatest.