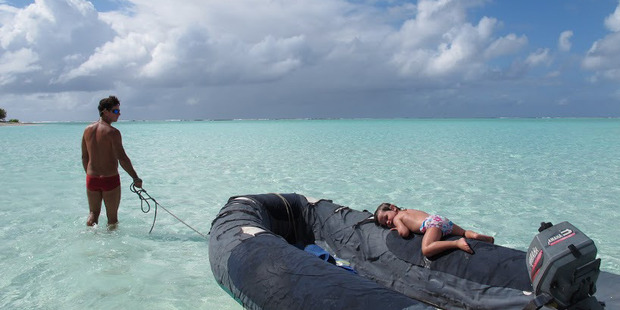 As part of the Herald's 150th birthday commemorations, reporter David Fisher and photographer Mark Mitchell travelled the country looking for the greatest Kiwi yarns. Follow their journey in this series.
Day 4: Waitangi
Brisa scoots up a ladder and on to the catamaran, sheltered under flapping canvas on the Waitangi foreshore.
She's only 3 but moves around the boat as if she's been at sea her whole life - which she has.
"She thinks she's a mermaid," says dad Russell Carlyon, 46. "It's amazing."
This is one adjustment of many made since living back on land. Russell, his wife Karin and their daughter returned to Waitangi after almost seven years sailing around the world.
As part of settling in, the couple began to take Brisa to swimming lessons.
Spending her first three years at sea has given her different ideas. "She thinks that swimming is under the water," says Russell. That's what she did at sea - leaped off her 15m catamaran home and swam with the fish until she had to come up for air.
Brisa was ducking in and out of the cabin of Moonwalker, looking for a child's treasures. Below, Russell was giving Moonwalker the sort of complete makeover she couldn't have during the journey around the world.
They left in June 2006.
"I don't think anyone really plans to sail around the world. You just plan your next step and then the one after that. If I think more than three days ahead I freak out."
They went to Tonga, then Fiji and Vanuatu and on to Australia. There was six months working there and then two years sailing through Indonesia and up to Thailand. They stopped in Banda Aceh for a while - the whole area notoriously dangerous for sailors. "I think the tsunami washed a lot of the pirates out."
The trip through was four years after the tsunami but the damage was plain to see. The tree-line on the coast was stripped back to mark the height of the Boxing Day wave.
"In some places ... it was twice the height of our mast." They sailed to the remote Chagos Archipelago, 600km south of the Maldives.
"We've been to a few places where there are no human inhabitants. The bird life and the fishing where humans are not is magnificent."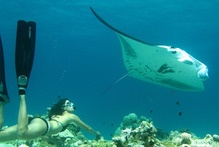 They would supplement their stores with fish caught from the boat. The trick, Russell says, is catching small enough fish. The ease and freedom was breath-taking. Karin caught squid from the galley window, just a hand-span above the waves, delighted at how quickly dinner would go from sea to stomach. It was a practice which lasted about as long as it took to clean the ink out of the galley - gutting the squid happened above-decks after that.
They crossed the Indian ocean to Madagascar, mooring off a village to the north. "An old guy rowed out," says Russell. He came with honey from the village and a bag of limes. The three breakfasted together, with the sailors not having seen fresh fruit for four months.
The visitor then climbed back into his boat and headed for shore - then turned back halfway. "He'd forgotten his plastic bag." Litter in so many heavily populated parts of the world, the bag was treasured for its uses.
The couple discovered Karin's pregnancy when they arrived in South Africa. When it came time for the birth, they left Moonwalker at a fishing harbour on Eastern Cape and flew home for five weeks. Brisa was born and the couple were married in the Bay of Islands. "Three years in I figured she'd stuck with me so long I'd better do the right thing."
Then it was back to Moonwalker.
They went from Cape Town to St Helena, the island on which Napoleon Bonaparte was exiled, before setting out across the Atlantic for Karin's homeland, Brazil. The newly expanded family celebrated Brisa's first birthday with Karin's family.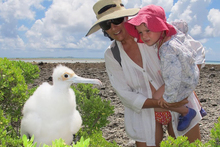 They left Vitoria, the capital of Karin's home state, and set out again. It was the darkest time of the trip, by her diary. Brisa was seasick and miserable. "It was disheartening and made for the ... question to burn in our minds: 'Should we carry on sailing with a seasick child',' she wrote at the time. "It was the first time I heard Russ voicing to himself, 'so this is the end of our sailing days'.
"But like the wind, thoughts and bad moments come and go, and the next day Brisa was happy as Larry, watching the whales, enchanted with their giant flapping fins and gracious diving tails in the air."
There were changes on Moonwalker. As Brisa learned to walk, nets went up around the catamaran. As her parents shared a double bed in one hull, Brisa's first bed was the bunk beneath. "We're all together," Russell says with a smile. Sea charts for navigation share table space with crayons and colouring books.
They passed through the Panama Canal and out into the Pacific Ocean. Amazing, Karin thought, that you could start a day in one ocean and end it in another.
They sailed for the string of islands marking out the route across the Pacific. Brisa - the mermaid - swam in the clearest waters and walked islands which showed no signs of ever being walked by human feet. The photographs are amazing - she's face to face with wildlife that has never faced a human threat.
"You don't spend that much time sailing around," says Russell. "You spend it spending time in the places you visit."
And then there was Tonga, the first time in almost seven years their journey overlapped with a place already visited. The most frightening moment came in the Ha'apai Islands, when a storm blew them on to rocks. Friends on a neighbouring yacht pulled them free when drawing up their own anchor, not realising it was entangled with that of Moonwalker.
Nerve-shattering, Karin wrote later, and the closest they came to losing Moonwalker. "Brisa watched her tablet and played inside the entire time. We did not hear a peep from our lovely daughter."
They turned south for New Zealand and the Bay of Islands. The trip ended with Moonwalker's engine dying and the wind dropping, a whispering finish to such a bold journey.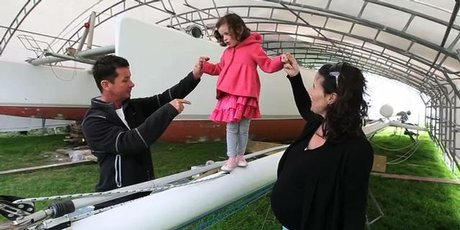 Bold because it takes courage to live with the uncertainty.
"I'm not a wealthy man but for anyone else in the world to do this, they'd think you have to be super-rich. We travel around the world for $19,000 a year. To find $19,000 a year isn't that hard. It's finding the courage to have the insecurity of it all - and to have a missus who would do it with you," says Russell.
There were about five days of bad weather in six years.
"A sailor who doesn't have luck is probably dead already. My other saying is bad experiences add up to good seamanship."
There's also good weather information and the ability to move 320km in a day to stay out of harm's way, but Russell is quick to head off talk of people making their own luck through preparation and hard work.
Doing so would jinx whatever has kept them safe for so long. Superstition has its place on Moonwalker - mainly in the cabin, which is filled with charms and talismans from their travels. The bubble of security around the yacht has a lot to do with faith.
"It's risky and if you're not scared of the ocean then you're not aware of what can go wrong. The longer you spend on the ocean, you realise it is way bigger than you are. I've been scared a lot in the past seven years.
"I learned to sail at this yacht club 40 years ago," says Russell, waving his hand behind to the Bay of Islands Yacht Club on the Waitangi foreshore. The sailing turned to windsurfing, which turned to national titles. He had thought he'd be a landscape gardener but wound up building a business making windsurfing boards.
There were other businesses - and then there was Karin, who was in New Zealand studying. "It was meant to be just a small fling. We both agreed to keep this light-hearted."
Then, in 2002, they bought the 9.7m catamaran This Way Up at a good price through an insurance company. Russell patched the six holes down one side and they sailed her for three years. "It was bloody flippy," he says, of the catamaran's tendency to, well, flip.
The lessons were parlayed into the knowledge needed for grander adventures, which came after they bought the more stable Moonwalker in November 2005. They left New Zealand six months later.
Now they're back and Moonwalker is up on the grass behind the club, sheltered under a huge canvas covering. It's Team New Zealand's old sail loft, he says, waving a hand at the canvas covering. "I bought it for $1100," he says.
He bought it on Trade Me. While at sea, the world moved on.
On return, wonders awaited and Russell was hooked. "I thought I was addicted to the internet. I hadn't seen it for seven years."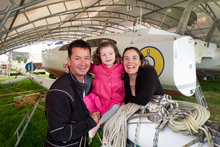 The greatest culture shock of the journey was New Zealand. "Coming home, it has been strange to integrate back into society."
The waste is astonishing to him. Living on the catamaran, everything has a place and a purpose. They know exactly how much they spend on essentials, down to the dollar.
"That comes from living on a boat." For budget and space reasons, food is fuel and not an indulgence. "Our food bill at the supermarket is tiny."
"People are so lucky in New Zealand but they don't realise it because we're so far removed."
The couple's second child is about to be born. Russell has that foot-to-foot hop that comes with an imminent childbirth phone call.
Then there's a plan, and another child who might learn to walk with sea legs. "We've gone around in six years and we were rushing," he says.
"It was a quick fly-by to see where we want to go next time."
Your story
Do you have a great yarn or captivating tale to share? Fill in the online form here, email your stories, photos or video to nzhgreatest@nzherald.co.nz or share your story on social media using the hashtag #nzhgreatest.